Patscenter
Patscenter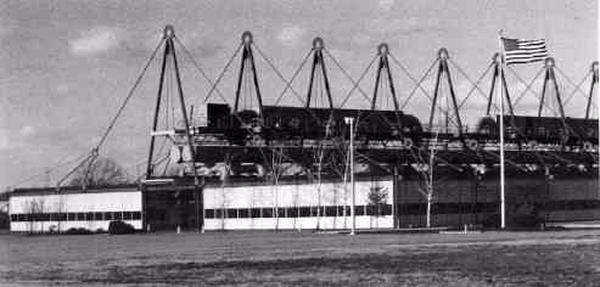 279 Princeton-Hightstown Road
The renowned English architect Sir Richard Rogers (b. 1933) designed this building for the Patscenter International Corporation in 1982. Construction began on April 14, 1983, with Governor Thomas Kean presiding over New Jersey's first robotic ground-breaking.
Rogers' design for Patscenter reflects his belief that "technology can be used to positive ends." Instead of borrowing history "piecemeal," or applying it to the "facades of buildings like' wallpaper, Rogers insists that we must design buildings that "look optimistically into the future." Rogers' credits American architect Buckminster Fuller as the primary influence on his faith in technology.
Like many of Fuller's innovative designs, Patscenter rejects a traditional frame structure. Traditional frame buildings begin on the ground with beams anchored into a foundation. One of Fuller's earliest architectural innovations was the "Dymaxion House" (1927), in which he rejects the traditional frame for a suspension design with the walls hanging from a single mast as in a suspension bridge or a circus tent (see Ethel McKnight School ). In Rogers' Patscenter, the walls are suspended from the A-frame masts on the roof.
Since suspension designs eliminate load-bearing walls and columns, they provide fluid, flexible open space within a building. The interior can be easily changed to suit a variety of activities- As Rogers notes, a building that is "easy to modify has a longer useful life and uses its resources more efficiently" than one that is fixed.
To anchor the building visually, Rogers put the mechanical systems such as plumbing and heating on a platform within the A-frame spine of the building. The systems, each a different color, run from the A-frame across the roof to the rest of the building. The effect is to emphasize the mechanical functions of the building. Whereas traditional architecture hides the mechanical systems behind the walls of the building, Patscenter places them in full view on the roof. it is as though Rogers turned the building inside-out so that the structural elements, or skeleton of the building, stand outside rather than inside the walls. The most famous of Rogers' exoskeletal designs is the Centre National d'Art et de Culture Georges Pompidou in Paris (1978).