Ethel McKnight School
Ethel McKnight School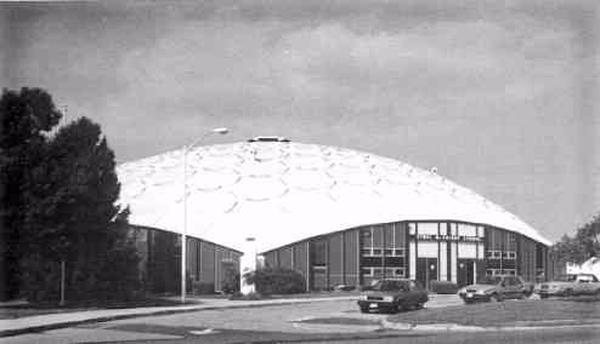 Twin Rivers Drive
Named for a local educator and community leader, the Ethel McKnight School was the first geodesic-domed school in New Jersey. The golden, anodized aluminum dome stands forty-two feet high with a 144 foot overhead span of interlocking polygons. When it opened in October 1970, the dome provided twelve open-space classrooms for 350 third through fifth graders.
Architect J. E. Fariday of Micklewright, Mountford, Hammett, Bouman,  Blanche of Trenton, based his geodesic design on the ideas of Richard Buckminster Fuller (1895-1983), the Internationally known American inventor, designer, and philosopher. Fuller believed that since our creative intelligence is limitless, we could use technology to improve life and overcome limited resources. Fuller's first major architectural innovation was his "Dymaxion House," a mobile building suspended from a single mast (see Patscenter ).  He coined the word "Dymaxion" by combining the words "dynamic" and "maximum".  The word aptly symbolizes Fuller's goal: to get a ' maximum advantage from minimum energy output', or to do more with less, so that everyone could have more of everything.
After World War II, Fuller's "people's technology" led to his invention of the geodesic dome, a low-cost, efficient method of modular construction that some believe to be the most important structural innovation of the twentieth century.  Using his geodesic geometry, Fuller's dome interconnects materials such as aluminum into self-supporting geodesic patterns, such as the polygons in the McKnight School.  Because geodesic domes do not need internal supports such as beams or walls, they allow builders to enclose a great deal of space in a short amount of time with a minimum of material.  The 23,000 square feet of interior space in the McKnight school cost $520, 000, and the building was completed in just five months.