East Windsor New Jersey Mayor Janice Mironov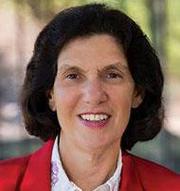 Mayor Janice S. Mironov in her 24th consecutive year is known for her conservative and responsible financial stewardship, resulting in no municipal tax increases for the past seven years, very low debt, as well as pro-actively and successfully obtaining grants and private support to fund major programs and activities. In 2019, East Windsor earned a significant municipal bond rating upgrade from AA to AA+ by S&P Global Ratings underscoring the Township's sustained positive operating performance and effective fiscal management. At the same time, the Township has continued to provide high-quality services through its responsive public works department, outstanding police department, and excellent recreation programs and senior services.
Under Mayor Mironov's pro-active economic development leadership, many new and expanded stores and businesses, generating jobs and tax dollars, have been attracted to East Windsor, including major projects as: Aurobindo, a global pharmaceutical company, which constructed a new 567,000 SF facility creating over 300 new jobs, plus moving 125 administrative employees to the adjoining PatCentre building and planned expansion; former National Lead site redevelopment by Exeter Property Group with a new 634,000 SF facility occupied by Modway Furniture, a significant home furnishings distributor; LG Electronics, global electronics giant, new distribution center in a recently completed Class A 410,300 SF facility; Shiseido, third largest cosmetics company in the world, continued expansion of space and operations housed in its current 311,000 SF facility with 800 employees, and many other significant pharmaceutical developments including, Hovione, Novitium and ForDoz.
Mayor Mironov is equally proud of the many environmental and sustainability initiatives, including increasing preserved open space and farmland, launching a community garden, a solar array to power the police/court facility, and many expanded recycling and outreach programs. East Windsor has been certified as a New Jersey sustainable community since 2011, achieving the prestigious Silver Level Sustainable Jersey certification in 2015 and re-certified at the Silver Level in 2018.

Mayor Mironov has received many community awards and recognitions. She is a member of the Township Planning Board, Council liaison to the Township Economic Development Committee and Clean Communities Advisory Committee, member of the East Windsor Municipal Alliance for the Prevention of Substance Abuse, and a Trustee of East Windsor Green Space, Inc. She also hosts a live call-in local cable program, "Spotlight East Windsor."
In addition to her leadership in East Windsor, Mayor Mironov is also active on the statewide level, having served as President of the New Jersey League of Municipalities and a very active member of the League's Legislative and various committees. Mayor Mironov is Vice President of the New Jersey Conference of Mayors. She also serves as a member of the NJ Highway Traffic Safety Policy Advisory Committee and NJ Shares.
Raised and educated in public schools in Bergen County, New Jersey, Mayor Mironov received her B.A. in political science from Wellesley College in Wellesley, Massachusetts and earned her law degree (J.D.) with honors from the National Law Center at George Washington University in Washington D.C.