East Windsor New Jersey Mayor Janice Mironov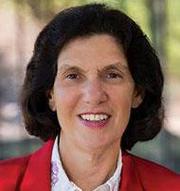 Mayor Janice S. Mironov has served as Mayor of East Windsor Township for the past consecutive 20 years and has a fiscally conservative record of keeping the municipal tax rate low, with no tax increases in recent years, maintaining low debt levels and pro-actively and successfully obtaining grants and private support to fund major programs and activities for East Windsor. At the same time, the Township has continued to provide high-quality services through its extraordinary public works department, capable dedicated police department, construction officials, recreation department and senior services.
Under Mayor Mironov's pro-active leadership, many new stores and businesses, which generate jobs and expand the tax base, as well as many new commercial projects have come to East Windsor. Additionally, Mayor Mironov is equally as proud of the many environmental initiatives the Township has undertaken, including increasing preserved open space and farmland, launching a community garden, Sustainable Jersey "green" silver certification, bronze certification and re-certification, and many expanded recycling programs. Recreational opportunities have also expanded with new parks and greatly expanded pathways throughout the Township. The Mayor also was instrumental in the construction of a new state-of-the-art Senior Center using donations and grants, and the Township continues to expand programs for seniors.
Mayor Mironov has received many community awards and recognitions. She is a member of the Township Planning Board, Council liaison to the Township Economic Development Committee and Clean Communities Advisory Committee, member of the East Windsor Municipal Alliance for the Prevention of Substance Abuse, and a Trustee of East Windsor Green Space, Inc. She also hosts a live call-in local cable program, "Spotlight East Windsor."
In addition to her leadership in East Windsor, Mayor Mironov is also active on the statewide level, having served as President of the New Jersey League of Municipalities. She is also a very active and engaged member of the League's various committees. Mayor Mironov is an Executive Board Member of the New Jersey Conference of Mayors. She also serves as a member of the NJ Highway Traffic Safety Policy Advisory Committee and NJ Shares.
Raised and educated in public schools in Bergen County, New Jersey, Mayor Mironov received her B.A. in political science from Wellesley College in Wellesley, Massachusetts and earned her law degree (J.D.) with honors from the National Law Center at George Washington University in Washington D.C.