East Windsor Municipal Building
East Windsor Municipal Building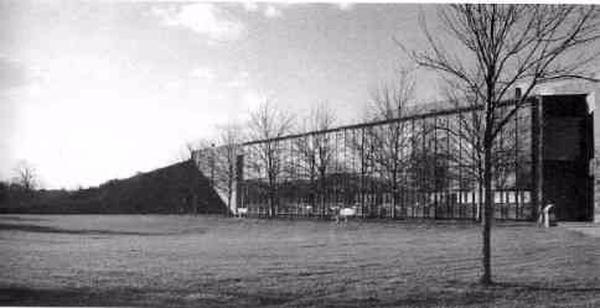 16 Lanning Boulevard

In August, 1982, township employees began moving from the crowded Ward Street town hall into this unusual building, which won awards for architectural and technical excellence. When Mayor Leonard J. Milner dedicated the building a few weeks later, the township celebrated the event with fireworks.
The East Windsor council had decided to build a new town hall in October 1979, at the height of the national energy crisis. In this period of national fuel shortages and rising fuel prices, the council decided to build a passive solar building designed by Stephen DiRochi of the Hillier Group, Princeton. By' using the sun for heat and the earth for insulation, DiRochi 's design uses 60% fewer fossil fuels than a conventional modern building.
The nucleus of DiRochi 's design is the two-story glass wall at the Southern end of the building (see above). The glass works as a passive solar collector so that when sunlight pours through the two-story glass wall, it becomes trapped in the space between this glass outer wall and a concrete heat-radiating inner wall. The trapped sunlight heats the air between the walls tip to 150 degrees. Ceiling vents then move the heated air into the building's hot-air heating system and through the rest if the building. On cloudy winter day's, a conventional furnace heats the building. During the summer, maple trees shade the south wall to prevent the sun from heating the building.
Around the other three sides of the building, DiRochi designed a landscaped earth berm to insulate the building from both hot and cold temperatures. Tons of earth make up the berm, which slopes like a pyramid twenty-four feet up in the air from a thirty' foot deep base. The massive concrete walls that DiRochi placed beneath the berm to support the earth from a cathedral ceiling in the lobby at the center of the building.
Between the trapezoidal shape of the building and its setting in the middle of a circular driveway, no low-flying aircraft could guess that it served as the center of local government--an important consideration during the Cold War between the United States and the Soviet Union.