Locust Retreat
1 Hidden Springs Road "Locust Retreat"
This elegant Federal style home originally stood on Disbrow Hill Road at the eastern end of today's Etra Park. Brothers Richard (1741-1825) and Hezekiah (1750-1807) Mount built the oldest section of this home soon after their father Thomas (d. 1777) bought 308 acres northeast of Cosman's mill (see page 16). The Mount brothers built a one-and-a-half story building that probably contained four rooms.
In 1777, Richard purchased Hezekiah's share of the property and married Lydia Dey (1748-1804). Richard and Lydia's household quickly grew; in 1784 they reported fourteen whites and three black slaves living on the property
In 1800 the house passed to Richard and Lydia's daughter Ann (1770-1838) and her husband Samuel Ely (1771-1840). Ann and Samuel enlarged the home by adding a four room side-hall house along the eastern side of it. Like many homes built during the Federal period (1780-1820), the Elys addition included closets on either side of an internal chimney, as well as delicate moldings and a graceful staircase. Their addition runs from the front door to the left, Above.
After Elijah and Lydia Ann Hancock purchased the house in 1855, they named it "Locust Retreat" for the locust trees on the property. The Hancock's turned the side-hall house into a center hall colonial by replacing the original one-and-a-half story section with four new rooms and a full attic (to the right of the front door, above). Besides matching the Elys' Federal style woodwork and trim in their addition, the Hancock's also carefully reused many of the original floorboards and doors in the new second floor
The township bought "Locust Retreat" for Etra Park in 1981 from the Estenes family , who had bought the property in 1927. Frances and Michael Pane then bought the house and moved it to its current site (see opposite). The Panes have extensively rehabilitated the house to restore its original Federal firebox, hand-milled moldings and wide-board floors. The new terrace on the right of this photograph provides a wonderful view of the formal garden and hidden spring behind the house.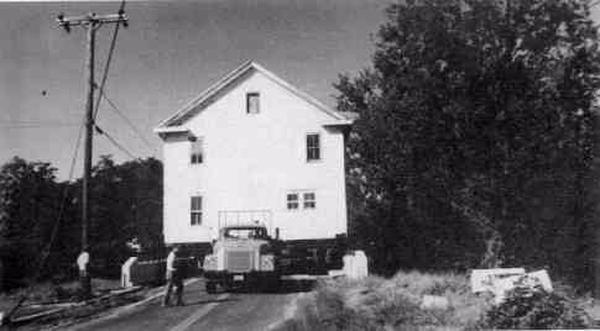 Moving Day, September 7, 1981 - Having loaded the house from "Locust Retreat onto this truck, these men carefully guide the truck over the bridge that spans the Rocky Brook on Disbrow Hill Road (Pane Family Archives)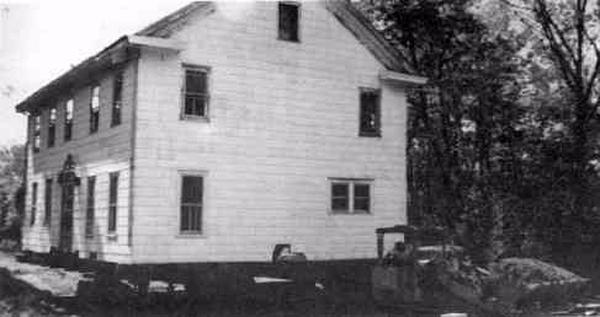 The New Foundation, September 1981 Once the house arrived at its new site on 1 Hidden Springs Road, the builders placed it on blocks and began building a foundation beneath it (Pane Family Archives).