The Village of Etra
The Village of Etra
One of the first residents in this area was a local miller named john Cosinari who bought land on the Rocky Brook around today's Milford Road. Between 1770 and 1773, Cosman built a gristmill which could grind grains such as corn and oats into flour. Since the Rocky Brook could not provide a steady supply of water to turn the waterwheel at the gristmill, Cosman dammed the brook to create what we now call Etra Lake.
A village soon sprang up around Cosman's mill. By 1850, the village had houses and stores , as well as a blacksmith shop, a basket factory, a chair factory, and a hotel. In My First Decade (1840-1850), Gertrude Applegate Wyckoff Maxwell (1840-1939) describes a carriage ride in the 1840's to Johnson's Fulling Mill in the village. She explains that after shearing their sheep, farmers brought their sheep's wool to Johnson's mill, where it would be turned into "long fleecy rolls." Women would then spin the rolls into yarn for "long woolen stockings" [and] mittens
Gertrude's favorite spot in the village was Mrs. Lottie Skinner's bonnet  shop full of blocks and band boxes." She remembers that each spring, Mrs. Skinner carefully reshaped women's ''beautiful Leghorn and Dustahle straw bonnets" so  that they could be worn another year.  While the women visited Mrs. Skinner, the men tried on beaver hats at David Chambers' shop.  Beaver hats were useful, for men plucked  the fur from them to staunch the blood whenever they cut themselves shaving. Gertrude recalls that when the men gathered at Etra to discuss serious public issues, they looked rather "funny" standing in their beaver hats with fur on their faces.
Through most of the 1800's, the village was called Scrabbletown or Milford. After 1890, the village took the name "Etra" after its most prominent resident, Edward Taylor' Rosel Applegate (1831 - 1915). Applegate served as a judge in the Mercer County Court of Common Pleas and as a New Jersey Assemblyman.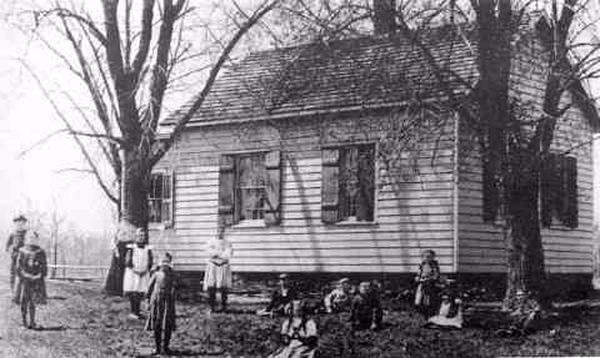 Etra School, 1911. These children pose in the schoolyard of the one-room Etra School. During the nineteenth century, the township built one-room schools at Etra, Cedarville, Hickory Corner, and Locust Corner (see 1875 Map of East Windsor Township ) (Hightstown-East Windsor Historical Society).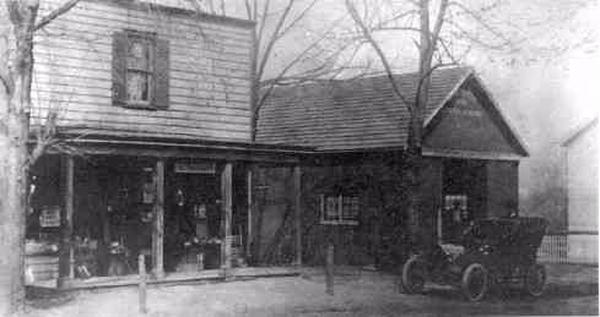 Mount's General Store and Etra Post Office, c. 1908. R.W. Norton's car stands outside Winfield Scott Thompson's (1850-1931) blacksmith shop on the north side of Etra Road opposite the Cedarville Road intersection. To the left is Charles Mount's general store, where the United States opened the Etra Post Office in 1890. Charles Mount served as postmaster here until 1894. His son, Symmes Mount, then became postmaster until the post office closed in 1933 (Hightstown-East Windsor Historical Society).