Ely-Norton Farm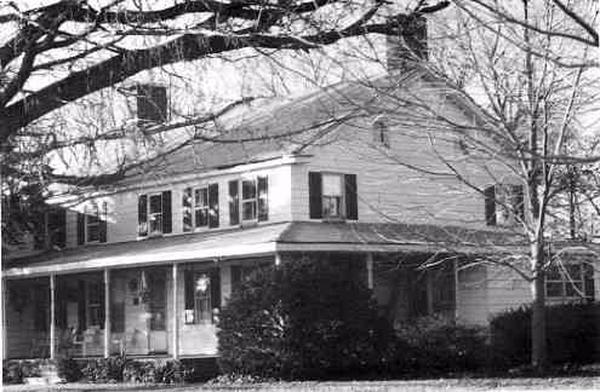 75 Imlaystown Road

Ely-Norton Farm
This farm is named for John Ely (1707-1795), who settled here in 1728, and Richard Norton (d. 1855), who settled here in 1831. The farm is best known, however, for its most famous visitor, Clara Barton (1821-1912). Clara had met Richard and Ellen Wyckoff Norton's children, Charles and Mary, while they studied at a Universalist school in New York. She lived here with the Norton family from October 1851 to May 1852.
In a letter to her nephew, Clara recalled her first afternoon at the Norton's' "large, well-cultivated" farm. After a "good dinner," she joined Charles and Mary for "a stroll in the woods in search of chestnuts, gum berries, and persimmons, and found plenty of them." She also described the Norton's' "prettily furnished" sitting room with its "good piano" and "large window looking into the garden." Clara clearly liked the Norton's, later calling them "a sterling family . good as gold and true as the sun."
Clara decided to begin teaching at the Cedarville School, a one-room private school on Cedarville Road (see 1875 Map of East Windsor Township ). Each of the thirty-nine students paid Clara tuition, $2.00 for each eleven-week quarter session. Clara found her students to be "quiet and obedient," arriving with "good honest cheerful faces every morning." The students later remembered Clara for both her interest in their progress and her informal methods. Despite a scarlet fever epidemic in 1851, Clara's class grew to sixty students. In late May 1852, Clara left the Norton's to open a school in Bordentown, New Jersey.
Mary and Charles moved to Hightstown after their father died in 1855. Mary became friends with another famous American, Horace Greeley (1811-1872), during one of his visits to Hightstown. Greeley later addressed his "Letters to a Ladyfriend" to Mary.
Unitarian Universalist Association: a Christian religious denomination characterized by tolerance of religious beliefs and the absence of doctrine. Universalists believe salvation is granted to the entire human race.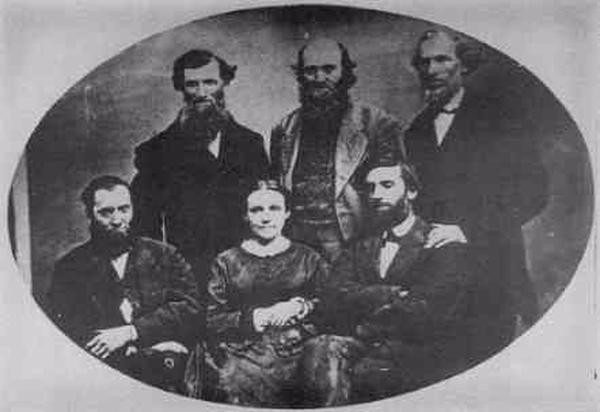 Mary Norton (1835-1899) poses with her brothers for this family portrait (c. 1880).  Sitting in the front are Charles (left) and James.  Behind them stand Wyckoff (left), William (center) and Joshua (Hightstown-East Windsor Historical Society).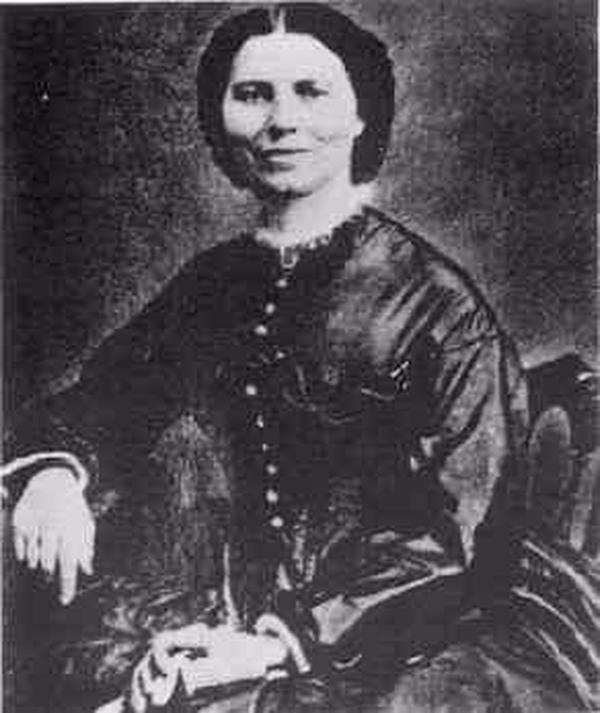 When she took a job with the Patent Office in Washington, D.C. in 1854, Clara Barton (above) became the only American woman working in the federal government in the mid-nineteenth century.  Clara left Washington after the Civil War began in 1861 to nurse wounded soldiers at the front.   The soldiers began calling her the "Angel of the Battlefield" for here selfless service and patient care.  Throughout the war, she continued to write Mary Norton, who sent Clara boxes of food and clothing for the troops.  After the war ended in 1865, Clara spent several years in the South searching for missing Union soldiers.  She then traveled through Europe helping the new International Red Cross.   Clara visited Mary again in 1878.  When Clara began organizing the American Red Cross in 1881, Mary was one of its four charter members (Hightstown-East Windsor Historical Society).