Updike-Lee Family Farm
Updike-Lee Family Farm
201 Hickory Corner Road

Aaron Forman, an East Windsor farmer, built the original five-room section of this home in1802 A barn Forman built about the same time still stands to the west of the house. Between 1800 and 1850, various owners added eleven rooms to this house, the centerpiece of the surrounding fifty-four-acre farm.
The first members of the Updike-Lee family to live here were Levi C. Updike (1844-1918) and his new bride Abbie C. Applegate (1845-1915). Levi, who was born in East Windsor, moved here soon after he wed Abbie in 1868. Like other East Windsor farmers, they raised grains such as corn and oats. Their daughter LaMattie (1874-1964) soon began school across the street in the "Hickory Corner School," a one-room school on the corner next to a large Hickory tree. The tide from one of Lalviattie's school essays, "Perseverance, the Key of Success" (1892), could be taken as the Updike-Lee family motto. Seven generations of the Updike-Lee family have lived in this home and operated this farm, adapting their business to suit their needs.
One of the first important changes came in 1897 when LaMattie began managing tile farm with her husband Charles Simmons Lee (1868-1947). Instead of continuing to raise grain crops, the Lees planted a variety of fruit trees and renamed the farm "Lee's Orchard." Charles bought a wagon for $50.00 and began selling fruit, eggs, and chickens to small grocery stores in Trenton. In 1914, they bought one of Henry Ford's popular Model "T" cars so that Charles could make deliveries quickly
With the profits from their sales, LaMattie and Charles began modernizing their farm. In 1905, they installed radiators in the house to create the first central heating in the township. In 1910, they installed a pump house which supplied the house with the first running water in East Windsor. In 1913, they installed acetylene gas lights, then in 1920 they added electric lights powered by a generator.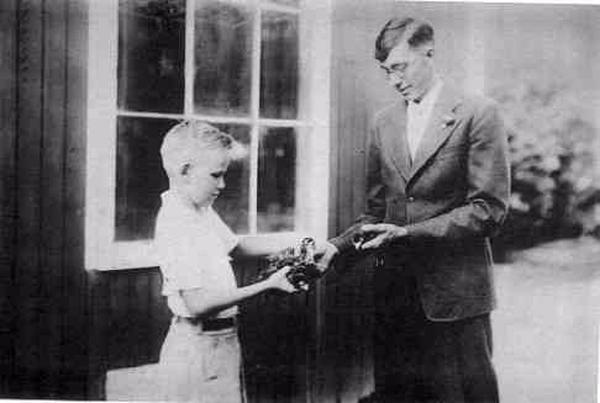 Charles and LaMattie retired when their son Levi U. Lee (1899-1986) took over the management of the farm with his wife Virginia May Perrine (1899-1994). Although business dropped sharply after the stock market crash of 1929, Levi and Virginia managed to keep the farm running throughout the Depression. They sold what produce and poultry they could and used the profits to keep the buildings and machinery in repair.
The photograph above shows Levi and Virginia's son, Richard Hulse Lee (b. 1927), handing the first turkey poults he ever raised to 4-H President Frank Oakerson. Richard raised thirty-three chicks for this 4-H project in 1938. He had such success raising turkeys that when he took over the farm, he converted it for turkey production and in 1951 renamed it "Lee's 'Turkey Farm".  Today, the farm produces over five thousand turkeys a year.
Richard and his wife Ruth Helen Daywalt Lee made another important innovation in 1964 when they became one of the first Farms in the state to sell pick-your-own fruit. While reading an article about a pick-your-own farm in Michigan, Richard realized that he had found a solution the rising costs of packaging and labor. A radio talk show host on  WOR in New York soon recommended Lee's to his listeners, and people from all over the region began driving to Lee's to pick fruit. With help from their children, Ronny and Donna Lee, the Lees soon added vegetables for customers to pick. Richard also found time to serve in township government as his father and grandfather did.
When Richard retired as a Master Farmer in 1989, his son Ronny and his wife Janet Mecham Lee began running the farm. Along with their children Charlie, Cassandra, Sadie, Nicole, and Dylan Levi, Ronny and Janet have added more than fifty-seven varieties of vegetables to the pick-your-own selection. Their hay-rides and tours have continued to make Lee's Turkey Farm a popular site with both area residents and tourists.