East Windsor Township Completes & Turns Switch On New Police/Court Building Solar Project
Published on Feb 28, 2017 at 10:21a.m.
Mayor Janice S. Mironov announced that the new Solar Photovoltaic System for the Police/Court Building at 80 One Mile Road has been completed, energized and is now in full operation.  The system consists of a 448-kilowatt solar array, to the rear of the building on land donated to the Township for this purpose by McGraw Hill.
Mayor Mironov explained, "The solar array is designed to generate 577,093 kilowatt hours of electricity annually, offsetting nearly 100% of the police/court building's energy use, and resulting in a savings to the Township of approximately $527,933 over the fifteen year term of the agreement.  The Township selected this site noting it is the most energy intensive municipal building user as it operates on a 24/7 basis, and therefore provides the greatest opportunity to realize financial savings."  Mayor Mironov underscored, "This project, completed at no cost to our taxpayers and delivering more than a half-million dollar cost reduction, is a prime example of 'going green and saving green.'"
The solar system was designed and built by Dobtol Construction in conjunction with Altus Power America, which will operate and maintain the solar system, at its own expense, during the term of the agreement.  Under the terms of the Power Purchase Agreement with Altus Power America, East Windsor will pay Altus $0.0585/kilowatt-hour, approximately half of the rate the Township currently pays to Jersey Central Power & Light.  After the initial fifteen year period, the Township retains the option to renew the Agreement for two additional terms of five years each.  If the Township chooses to extend the Agreement, savings to East Windsor taxpayers could exceed $1 million. 
During the review, Mayor Mironov and Council Members required the project be well buffered from surrounding views and aesthetically agreeable to the neighborhood, by ensuring the height and angling of the panels was well addressed and sufficient landscaping was installed.  A substantial landscape buffer, comprised of twenty-four Norway Spruce, twenty-five Colorado Spruce and twenty-eight Green Giant Arborvitae as well as other plantings was put in place, along with a six foot high black vinyl coated fence around the solar array system.
PHOTOGRAPH #1 and #2:
East Windsor officials "turn switch" on newly constructed solar system array to power the Township police/court facility.  Pictured (from left to right) are:  Chief of Police James Geary; Council Member Alan Rosenberg;  Council Member John Zoller;  Mayor Janice S. Mironov;  Police Office Danny Fernandez, and Police Officer Gregory Hager.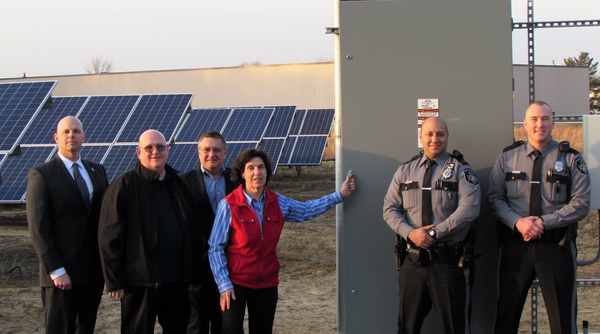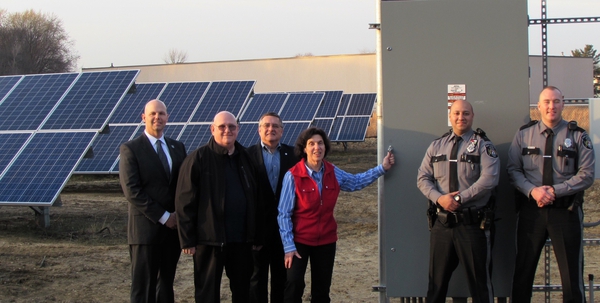 More:
Home News
Police News