Trinity Rehab Opens in Windsor Center in East Windsor Township
Mayor Janice S. Mironov and Council Member Marc Lippman joined Rose Hernandez, DPT Regional Director for Trinity Rehab, and administrative staff for a ribbon cutting to celebrate the grand opening of their new location in the Windsor Center, at the intersection of Route 130 South and Route 571. The ribbon cutting, held on July 21, kicks off Trinity Rehab's "Welcome to East Windsor" community drive, in which Trinity Rehab will provide free consultations throughout August.
Trinity Rehab joins other businesses including Aldi, Retro Fitness, Ross Dress for Less and Staples in the revitalized modernized Windsor Center. Trinity Rehab, founded in 2001, is an all-inclusive physical therapy and rehabilitation center that treats patients of all ages and fitness levels for back and neck pain, orthopedic injuries, post-operative rehab, sports related injuries, auto or work accidents and other common or rare conditions. Trinity Rehab operates 20 facilities across 11 counties in New Jersey and combines state of the art technology with a teamwork approach and tailor fit treatment plans unique to each patient's needs.
Mayor Mironov stated, "Trinity Rehab is an established company that focuses on providing individualized care for their patients with advanced technology and trained therapists. Trinity Rehab's new location in East Windsor adds to the existing variety of health and wellness programs in our community. Their decision to open in East Windsor is a further demonstrated sign of the attractiveness of the vibrant Route 130 business corridor with our superior location and vibrant local economy. We welcome Trinity Rehab to East Windsor, and wish them much success with their new location."
For more information about Trinity Rehab, visit their website at https://www.trinity-rehab.com or call (609) 336-8633.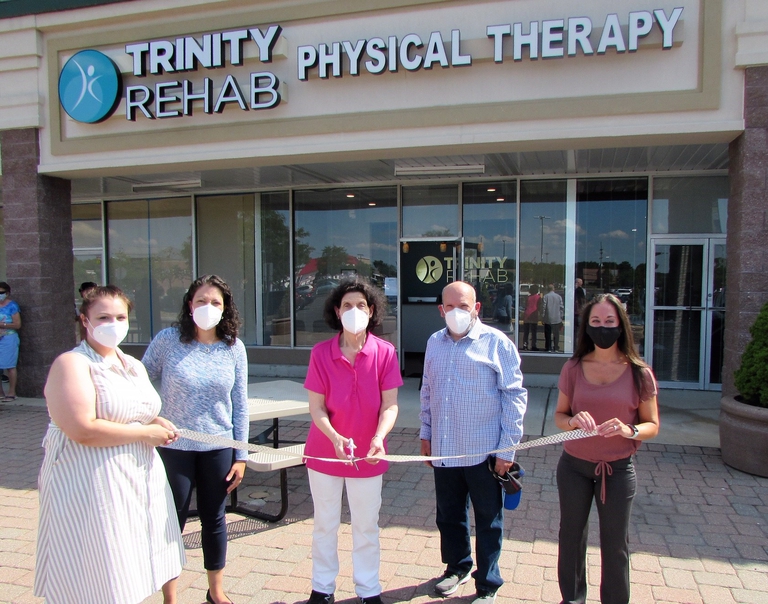 Mayor Janice S. Mironov and Council Member Marc Lippman join administrative staff for Trinity Rehab to cut the ribbon to celebrate the grand opening of their new office in the Windsor Shopping Center on Route 130. Pictured (from left to right) are: Nancy Daino, Office Administrator, Trinity Rehab; Rose Hernandez, DPT Regional Director, Trinity Rehab; Mayor Janice S. Mironov; Council Member Marc Lippman, and Pamela Rinaldi, Director, Trinity Rehab.
More:
Home News
Business News