Title Boxing Club Opens in Town Center Plaza on Route 130 North in East Windsor Township
Mayor Janice S. Mironov, accompanied by Deputy Mayor Peter Yeager and Council Member John Zoller, joined owner Katya Lazen and staff for a ribbon cutting to celebrate the grand opening of Title Boxing Club in the Town Center Plaza on Route 130 North. The 3,364 square foot new Title Boxing Club is located directly between Hallmark and the Martial Arts studio.
Title Boxing Club offers total-body boxing and kickboxing workouts with classes modeled after the sport designed to increase core strength, stability and mental stamina. Their professional trainers also offer flexible class schedules with the option of adding tailored one-on-one personal training sessions to learn proper techniques. Title Boxing Club has locations nationwide, and in Metuchen and Wayne, New Jersey.
Mayor Mironov stated, "Title Boxing Club is a unique fitness company that provides a fun way for individuals to work out and stay active. Their experienced staff and extensive class schedule will provide residents in the area with another avenue to maintain a year-round fitness routine. Their decision to open in East Windsor is a further demonstrated sign of the attractiveness of the vibrant Route 130 business corridor."
Classes currently are available from 5:30 AM to 8:30 PM weekdays and 7 AM to 4 PM on weekends. Visit www.titleboxingclub.com/east-windsor-nj for additional information and to schedule a free first class.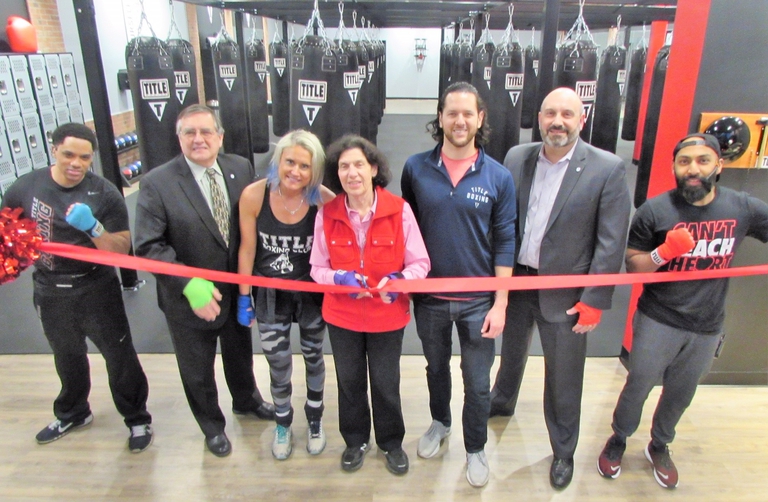 Mayor Janice S. Mironov, joined by Council Members, Club owner and staff, cuts the ribbon for the grand opening of the new Title Boxing Club East Windsor located in the Town Center Plaza on Route 130 North. Pictured (from left to right) are: Chris Stevens, Trainer; Council Member John Zoller; Katya Lazen, Title Boxing East Windsor Owner; Mayor Janice S. Mironov; Russell Harris, Director of Operations; Deputy Mayor Peter Yeager, and Bivin Baby, Fitness Manager.
More:
Home News