East Windsor Township Proclaims Human Trafficking Awareness Month
Mayor Janice S. Mironov, joined by Womanspace Executive Director Patricia Hart, issued a Mayoral Proclamation recognizing January as Human Trafficking Awareness Month. Womanspace, the lead non-profit organization in Mercer County that provides crisis intervention and support for victims of domestic violence and sexual assault, offers support and services for survivors of human trafficking.
Mayor Mironov said "every year East Windsor has taken the opportunity to recognize Human Trafficking Awareness Month because we believe that awareness is key in regards to combating this human tragedy. Unfortunately statistics show that this is an issue that is prevalent in all communities, states and nations. We express our unity and solidarity against this appalling issue and encourage everyone to be vigil and to take action when they suspect this is happening."
Womanspace Executive Director Patricia Hart stated, ""Human trafficking often involves victims who are hiding in plain sight, and we may see them and have no idea what they are experiencing. We are continuing to raise awareness so victims know that they can come to Womanspace in order to receive support."
The Mayoral Proclamation recognizes that "human trafficking is a borderless horrific crime against especially vulnerable children and woman that violates the most basic human rights and deprives victims of every shred of personal freedom. The United Nations' International Labour Organization has estimated that nearly 24.9 million people are trapped in forced labor including 4.8 million people are in forced sexual exploitation." Mayor Mironov's Proclamation states that the, "Township of East Windsor is resolved to support the goals and ideals by observing annually a Month of Human Trafficking Awareness to support all efforts by individuals, businesses, organizations and governing bodies to raise awareness of and opposition to human trafficking."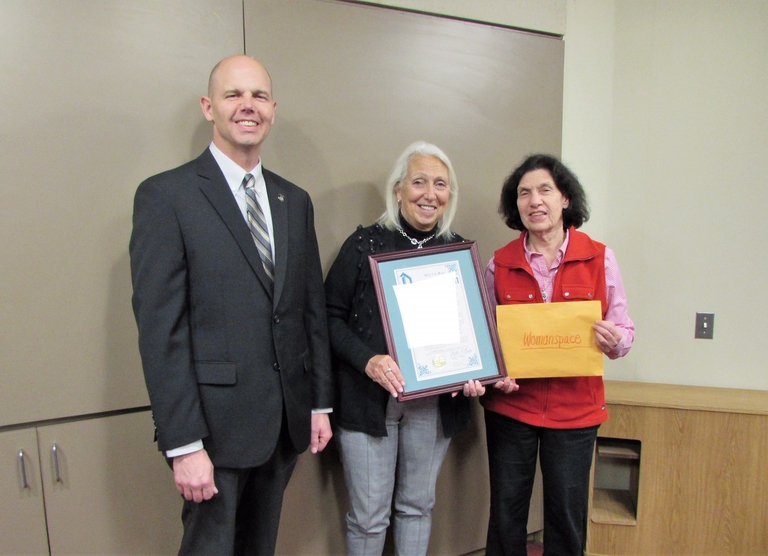 Mayor Janice S. Mironov issues Mayoral Proclamation declaring January as Human Trafficking Awareness month to Patricia Hart, Executive Director of Womanspace (center), along with Chief of Police James Geary.
More:
Home News
Police News