Mayor Janice S. Mironov and Council Members Cut Ribbon for Opening of Expanded East Windsor Township Senior Center
FOR RELEASE:  November 30, 2022 
Mayor Janice Mironov, along with Deputy Mayor Peter Yeager and Council Members Denise Daniels and John Zoller, joined East Windsor Township Senior Center volunteers and staff for a ribbon cutting for the opening of the newly expanded Senior Center. East Windsor officials have expanded the 11,000 square feet facility by over 50 percent, to 16,785 square feet, adding 5,000 square feet to the rear and 758 square feet to the north side. 
East Windsor officials expanded the 11,000 square foot facility by over 50 percent adding 5,000 square feet to the rear and 758 square feet to the north side. The Township Senior Center includes a now greatly enlarged flexible multi-purpose room, book-ended with a kitchen and small recessed stage, used for social events and performances, as well as a computer room, game room with billiard tables and ping pong, exercise room, arts and crafts room, a lounge/television room, library, health screen room, and open areas with tables and chairs.  Other Senior Center program amenities include a Community Bus acquired through a Federal/State grant for transportation and trips, County Surrogate Satellite Office, Walking Trail running adjacent to the property, and on-site Mercer County Nutrition Project.  Membership is free as are most of the activities.
            Mayor Mironov noted, "A blessing of the Senior Center is skyrocketing popularity over recent years, but the resulting challenge was we could not accommodate everyone in social events and popular classes. This newly expanded facility which adds 50 percent more square feet allows flexibility in space configuration to best accommodate more members and enhance access to the full-range of health, fitness, social and educational programs and activities offered at the Senior Center.  The grand re-opening of the East Windsor Township Senior Center is an investment in our seniors supported by a $1 million grant from the Mercer at Play program and a $400,000 state grant through the Small Cities Community Development Block Grant program."
            The existing East Windsor Senior Center opened in September 2003, replacing a small one room converted building on Dutch Neck Road.  The facility was designed to be attractive, functional and cost-effective, and to accommodate a wide range of activities and interests. The facility was constructed utilizing a generous four-acre land donation from senior-service provider Presbyterian Homes of New Jersey and funding from governmental grants and private donations. 
Mayor Mironov added,  "We know the Senior Center is a cornerstone of our local senior community, is a tremendous resource as well as a second home to large numbers of our community's senior citizens.  Our longtime commitment and engagement underscore our deep caring about our seniors and I am excited about welcoming our friends back to the Township's newly expanded Senior Center."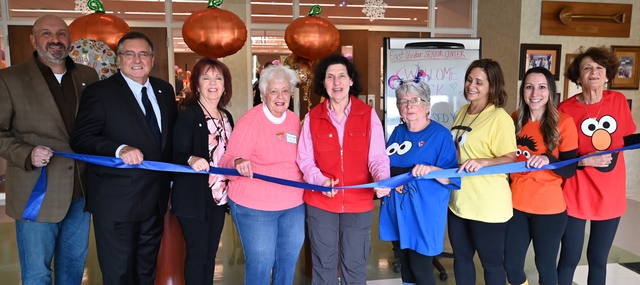 Mayor Janice S. Mironov, joined by Council Members and senior center staff and volunteers, cuts the ribbon celebrating the opening of the significantly expanded East Windsor Senior Center.  Pictured (from left to right) are:  Deputy Mayor Peter Yeager;  Council Member John Zoller;  Council Member Denise Daniels;  Dilys Henninger, Commission on Aging Member;  Mayor Janice Mironov;  Kathleen Griffin,  Senior Center Volunteer;  Kelly Roman, Senior Center Director;  Rebecca Liming, Senior Center Program Coordinator,  and Fay Fisch, Senior Center Volunteer.