Shiseido and East Windsor Host Senator Cory Booker Visit to Shiseido Facility
FOR RELEASE:   August 18, 2022
            Mayor Janice S. Mironov and Shiseido Americas executives welcomed U.S. Senator Cory Booker to a tour of the East Windsor facility and a town hall with local employees.  Shiseido, celebrating its 150th Anniversary, opened in East Windsor in 1998 and is now home to the company's North American manufacturing center and one of its Global Innovation Centers.  Senator Booker toured the East Windsor Shiseido facility, one of the Township's premier employers, and conducted a Town Hall Question & Answer forum with a packed room of company employees, among 21 county events in New Jersey.  
            The Shiseido East Windsor 350,000 square foot facility employs over 340 workers, produces over 2,600 products, and includes manufacturing and innovation with three shifts/five days per week.   Shiseido is an environmental leader, with installation of their solar array, and LED upgrades.  Shiseido cosmetic and perfume brands include:  Shiseido Ginza Tokyo, NARS, Drunk Elephant, Cle de peau, Tory Birch, Serge Lutens, Issey Miyake, Dolce & Gabbana, and Narciso Rodriguez.  
            Mayor Mironov stated, "East Windsor is proud of the beneficial partnership we have enjoyed with the global cosmetics giant Shiseido, which is a great business model, community model and a pro-active environmental leader.   Shiseido represents for East Windsor the best of our high-tech, high-growth companies within our Einstein's Alley corridor.  Shiseido, with a long company history of promoting and protecting our green environment, directed by the dedicated corporate leadership and staff of Shiseido Americas, has set an admirable model for businesses in our community and around the world.  We are pleased to welcome and bring together another partner in Senator Booker to learn more about Shiseido's business operations, innovative ideas and sustainable practices and leadership." 
Founded in 1872 by Arinobu Fukuhara with its origins as a western pharmacy in Ginza, Tokyo, Shiseido is one of the oldest and largest cosmetics companies in the world. Shiseido employs 42,000 employees in 120 countries and regions, with over $7.5B in net sales.  Shiseido operates in six regions:  Americas, Europe, China, Japan, Travel Retail, and Asia-Pacific (APAC).    Their mission includes "beauty innovations for a better world".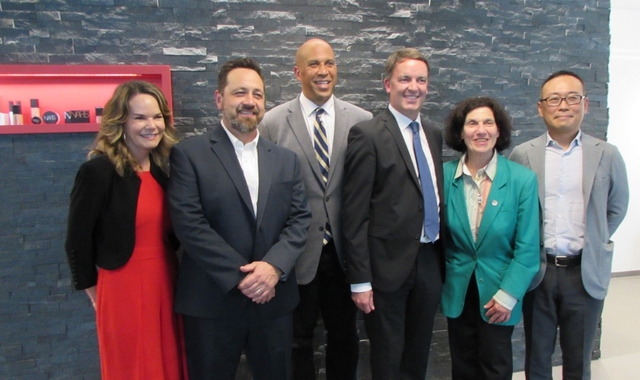 Mayor Janice S. Mironov and Shiseido Executive Team welcome U.S. Senator Cory Booker to the East Windsor Shiseido Americas facility for a tour and an employee Q&A Town Hall.  Pictured (from left to right) are:  Gail Boye, Executive Vice-President, Product Innovation & Commercialization; Ross Hammond, Vice-President, Manufacturing & Plant Manager; U.S. Senator Cory Booker; Max Bogaert, Executive Vice-President, Operations Shiseido Americas; Mayor Janice S. Mironov; and Takahiro Iwabuchi, Senior Vice-President, Regulatory & Americas Innovation Center.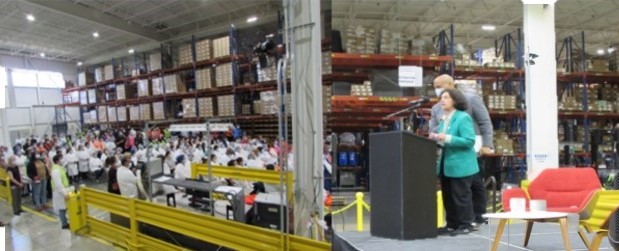 Mayor Janice S. Mironov and U.S. Senator Cory Booker address a packed room of employees for a Q&A Town Hall meeting at Shiseido Americas East Windsor facility.