Vectornate USA Relocates Global Headquarters to East Windsor Township
FOR RELEASE: July 18, 2022
Mayor Janice S. Mironov, surrounded by Council Members and Company Executives, announced Vectornate USA has relocated their global headquarters from Mahwah, New Jersey to a 56,860 square foot facility and campus at 493 Old Trenton Road. Vectornate USA, a South Korean-based manufacturer and distributer of an array of medical diagnostic products, is working towards bringing manufacturing from overseas to New Jersey to produce diagnostic products made 100% in the USA. The company has already added 20 employees to the local economy, with plans to add additional jobs.
Mayor Mironov stated, "We welcome Vectornate USA to our globally-based and technologically advanced business community which already calls East Windsor home. The decision to relocate their global headquarters and make a major investment in East Windsor Township will generate tax revenue and create additional high-growth job opportunities in the community. Vectornate USA's relocation demonstrates once again the tremendous attraction of the Township for research and innovation companies."
Mayor Mironov added, "East Windsor has successfully attracted another international company due to our strategic central location, excellent access to transportation, highly skilled workforce and a business-friendly hands-on local government environment that responds to the needs of the business community."
Vectornate USA, founded in South Korea in 1991, is a manufacturer and distributer of several brands, most notably MedSchenker and Vectorfog. The company will continue to manufacture and distribute an array of medical diagnostic products including their trademark Smart Transport Medium offering faster and more accurate results in medical sampling and swabs as well as their patented fogger machines which serve the healthcare, agriculture, pest control and restoration industries. Vectornate USA also produces plasma disinfectors, medical collection kits, lab supplies, and diagnostic machines for laboratory slides.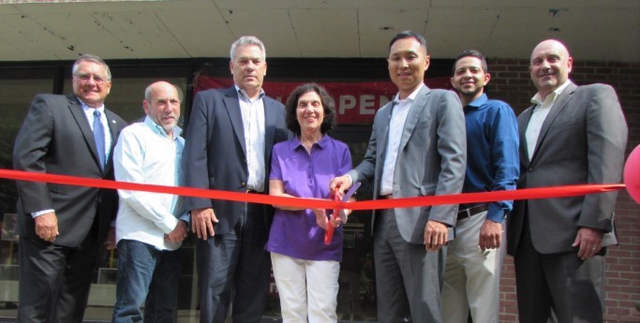 Mayor Janice S. Mironov and Council Members join Vectornate USA executives to cut the ribbon celebrating the opening of their new global headquarters facility in East Windsor Township. Pictured (from left to right) are: Council Member John Zoller; Council Member Marc Lippman; Walter Garvey, Vectornate USA Sales Director; Mayor Janice Mironov; Sean Yeom, Vectornate USA President; Amin Rojas, Vectornate USA Manager of Human Resources, and Deputy Mayor Peter Yeager.