East Windsor Township and the Watershed Institute Participated in Stream Cleanup at Etra Lake Park
FOR RELEASE:  May 4, 2022
.  East Windsor Township and The Watershed Institute co-sponsored, in cooperation with the Americorps Watershed Ambassador Program, a stream cleanup on Saturday morning, April 23rd at Etra Lake Park on Disbrow Hill Road.  Over 70 volunteers, young and adult, joined in the stream clean-up, collecting over 347 pounds of trash and recyclables at Etra Lake Park.
Mayor Mironov had "thanked residents who participated in this worthwhile community cleanup effort at Etra Lake Park, as a terrific way to celebrate Earth Day and preserve our natural resources.  The purpose of this cleanup was to remove litter from our local watershed streams, helping to keep our water sources clean and provide for cleaner and more environmentally healthy streams."
The Watershed Institute works with residents, municipal, county and state leaders and local groups on a wide variety of initiatives and actions to plan smart, grow community and preserve and protect our natural resources. 
Mayor Janice S. Mironov and Council Members help kick off the East Windsor Township-Watershed Institute Annual Stream Cleanup at Etra Lake Park on Saturday, April 23. Pictured (from left to right) are: Council Member Alan Rosenberg; Ronald Balint, Chairperson, East Windsor Environmental Commission; Mayor Janice Mironov; Deputy Mayor Peter Yeager, and Council Member John Zoller.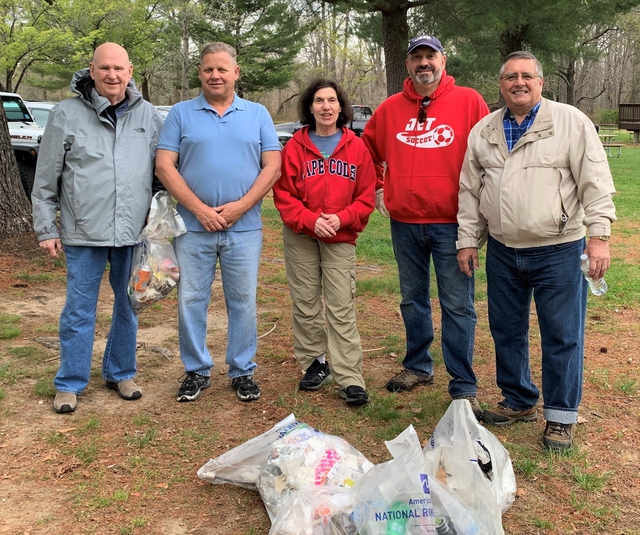 Mayor Janice S. Mironov and Council Members joined local volunteers,  Girl Scout Troop 70756 and other scouts, and area residents, to participate in the annual Stream Cleanup Event co-sponsored by the Watershed Institute at Etra Lake Park.