Novitium Pharma Breaks Ground On 17,760 Square Foot Expansion In East Windsor Township
Mayor Janice S. Mironov and Council Member Marc Lippman, joined by Novitium Pharma Founder and President Samy Shanmugam, CEO Chad Gassert and other Novitium Pharma executives, held a groundbreaking for the major expansion of Novitium Pharma, a pharmaceutical company located at 70 Lake Drive in the vicinity of East Windsor NJ Turnpike Exit 8.
The expansion will add 17,760 square feet to the existing 35,963 square foot facility, and is expected to add up to ten new jobs to the current 60 person workforce. The expansion will accommodate the installation of innovative pharmaceutical testing equipment to allow for the development of new medications and products, in addition to their current generic pharmaceutical research, manufacturing and distribution operations.
Mayor Mironov stated, "This expansion is an exciting business undertaking that signifies a major investment by Novitium Pharma in East Windsor Township, generating tax revenue and creating additional job opportunities in the community. Novitium Pharma's decision to expand their existing East Windsor facility underscores the vibrancy of our business community, and demonstrates once again the tremendous attraction of the Township for high-tech, high growth research and development pharmaceutical-related companies. We are delighted that Novitium Pharma has found East Windsor and the strategic location at East Windsor NJ Turnpike Exit 8 to be such a beneficial home for their company, leading to continued growth and success here."
Novitium Pharma, founded in 2016, relocated their operations from a small facility in South Plainfield, New Jersey to East Windsor Township within their first year. Novitium Pharma specializes in developing and manufacturing generic pharmaceuticals in dosage forms such as tablets, capsules, oral/topical liquids and creams, and markets directly to major retailers such as CVS and Walgreens. The company was founded by Samy Shanmugan, a pharmaceutical scientist with over 20 years of experience in the industry, who has developed and commercialized in excess of 100 specialty dosage forms and Abbreviated New Drug Applications (ANDA) in the U.S. market.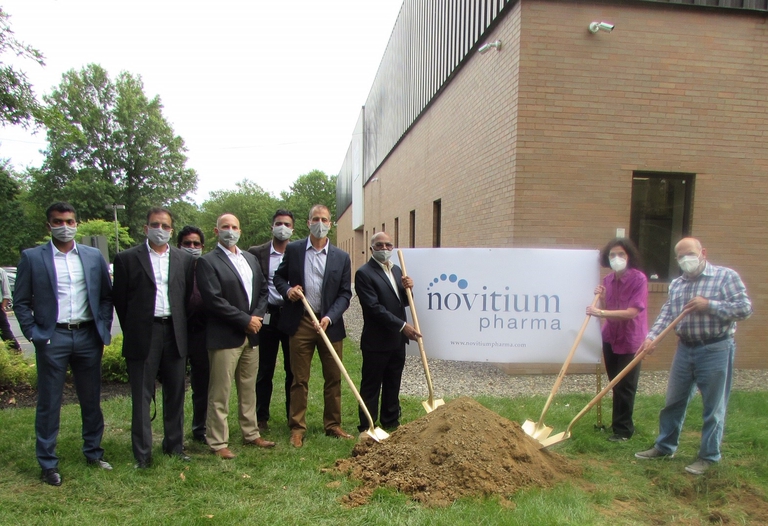 East Windsor Township Mayor Janice S. Mironov and Council Member Marc Lippman joined Novitium Pharma executives for a groundbreaking ceremony for the major expansion of their East Windsor facility. Pictured (from left to right) are: Dr. Sankar Shanmugam, Research and Development Scientist, Novitium Pharma; Dr. Vijayaraj Thorappadi, Vice President of Research and Development, Novitium Pharma; Kamlesh Shah, Principal, KSD Architects; George Schwab, Vice President of Quality Assurance, Novitium Pharma; Dr. Siva Shanmugam, Business Development Associate, Novitium Pharma; Chad Gassert, CEO, Novitium Pharma; Samy Shanmugam, Founder and President, Novitium Pharma; Mayor Janice S. Mironov, and Council Member Marc Lippman.