Lemuel Black House
Lemuel Black House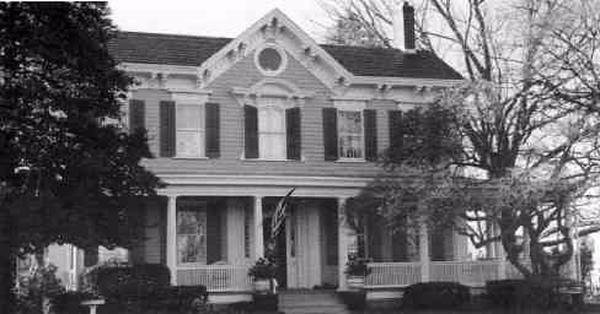 866 York Road
Lemuel Black House
During the 1700's, this land formed part of the York Road property that Philadelphia merchant John Shield owned and rented to tenant farmers (see New Hightstown ). After the Shield family sold the property, it passed into the hands of Noah and Sarah Cain. The Cain's rented the property to Isaac Pullen (1805-1867), a cooper, soon after he married Jane Hulit (1806-1883) in 1827.
As one of his friends noted, Isaac's love of plants was the "key and centre of his history." Around 1830, Isaac decided to open the first nursery in the township here. Local farmers soon relied on Isaac for both supplies and advice. Although Isaac could not eat fruit because of a digestive disorder, he developed a number of new varieties of fruit trees which became popular with local farmers. As Isaac's nursery grew, he became an important figure in the township. lie served on the Township Committee and then in the state legislature.
The front section of this house (above), probably dates from 1849 when Isaac bought the property from Sarah Cain. The cross gable, or peak, in the roof line at the front of the house, was a popular feature of the Gothic style that dominated American architecture from 1840 to 1870.
After Charles and Mary A. Pullen Black bought the house in 1878 (see Black-Locke House), they added the front porch, as well as the Victorian trim around the windows and the scroll sawn brackets under the eaves. Their son Lemuel grew up in this house and lived here with his wife Catherine Van Nest after Charles' death. Lemuel, who won several state prizes for his apples and tomatoes, served as a township committeeman and then as mayor.
When Lemuel retired in 1957, the Conover family bought the property and used it as grazing land for their growing herd of Guernsey cows (see Conover's Dairy ). Thomas J. and Cynthia S. Malsbury bought the house in 1977 and extensively rehabilitated it to restore it to its Victorian splendor. William and Sandy Kendall have continued the rehabilitation since they bought the house in 1986.