Subzi Mandi Farmers Market Opens in The Shoppes at East Windsor in East Windsor Township
Published on May 14, 2018 at 09:29a.m.
Mayor Janice S. Mironov, along with Council Member Perry Shapiro and Economic Development Committee Chairperson George White, joined the owners and principals to celebrate the grand opening of the new Subzi Mandi Farmers Market in the Shoppes at East Windsor located on Route 130 South.
Subzi Mandi, which means vegetable market, carries fresh produce as well as a wide selection of imported brand-name frozen and dry goods, as well as many local familiar brand products. Subzi Mandi, which occupies 13,872 square feet in the newly constructed Shoppes at East Windsor, joins other stores including Sherwin Williams and T-Mobile, with Five Guys coming soon.
Mayor Mironov stated, "We are excited to welcome an experienced successfully established grocery chain to East Windsor that brings an authentic variety of foods and offer a greater selection for residents of our community."
Mayor Mironov added, "Subzi Mandi Farmers Market creates approximately 12 new full time jobs in our community, which is always a welcomed boost to our local economy. Subzi Mandi's business expansion here is another signal of the strong attraction of East Windsor and the Route 130 corridor area as a terrific location for new stores and restaurants."
Subzi Mandi opened its first store in 1994 in Jackson Heights, New York. Subzi Mandi has 13 locations in New Jersey, New York and Texas. Other New Jersey locations include Cherry Hill, Edison, Jersey City, Parsippany and Piscataway. The East Windsor location is the first to also carry the Farmers Market name, due to its offering fresh local produce grown in Vineland, NJ.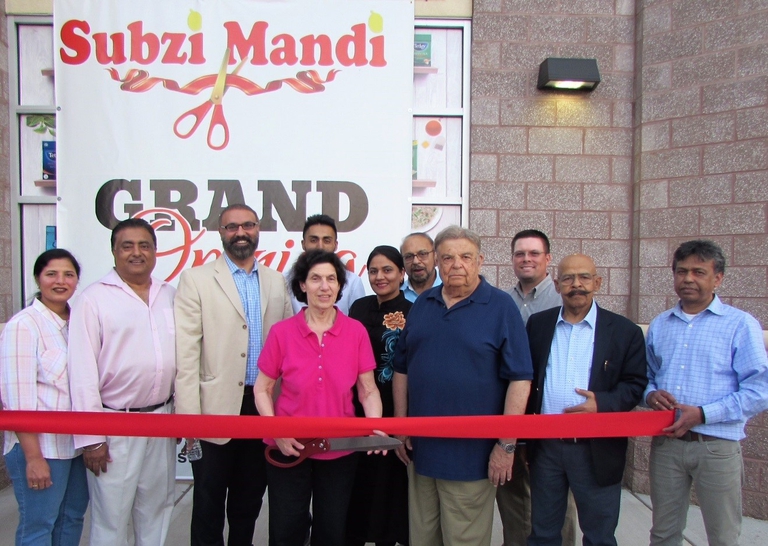 Mayor Janice S. Mironov, Council Member Perry Shapiro and Township Economic Development Committee Chairperson George White join with the owners and principals of Subzi Mandi Farmers Market at Shoppes at East Windsor to cut the ribbon and celebrate the grocery's grand opening.

More:
Home News
Business News