Starbucks Cafe Opens in Target Department Store in East Windsor Village in East Windsor Township
Published on Oct 31, 2018 at 03:00p.m.
Mayor Janice S. Mironov, Deputy Mayor John Zoller and Council Members Denise Daniels, Perry Shapiro and Peter Yeager joined Target representatives Store Manager Ari Limor and Human Resource Manager Caroline Parent, to celebrate the Grand Opening of the new Starbucks Café inside the East Windsor Target store located at the East Windsor Village on Princeton Hightstown Road (County Route 571) just west of Route 130.
Mayor Mironov stated, "We are extremely excited to welcome one of the leading coffee company's to the East Windsor Target store, an attractive locale in our business community. Starbucks is without doubt among the most well-known and popular coffee café's, and residents and shoppers are excited to be able to frequent a local Starbucks conveniently located in our great Target store." Mayor Mironov added, "The new Starbucks cafe has created ten new jobs and has rapidly become a strong shopper destination in East Windsor Township." Current Starbucks cafe hours are 8 am to 9 pm seven days a week.
Starbucks, based out of Seattle, Washington, has more than 28,000 retail stores in over 75 countries, 78 market stores and over 350,000 employees around the world. The Starbucks vision is to provide a full coffeehouse experience offering premium teas, fine pastries and treats while creating the sense of a community gathering place offering a place for public conversation. Starbucks mission is to "inspire and nurture the human spirit – one person, one cup and one neighborhood at a time."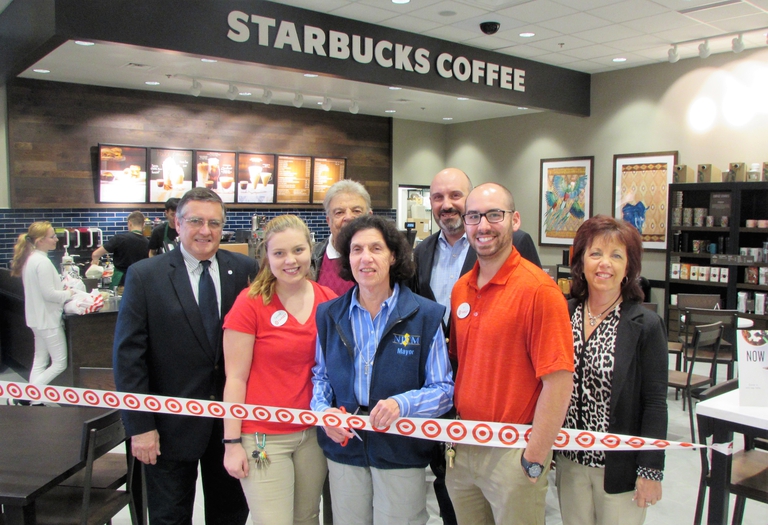 East Windsor Mayor Janice S. Mironov, accompanied by Council Members and Target store representatives, cuts ribbon for grand opening ceremony of new Starbucks café located in the Target Department Store in the East Windsor Village Shopping Center on Princeton Hightstown Road. Pictured (from left to right) are: Deputy Mayor John Zoller; Caroline Parent, Target Human Resources Manager; Council Member Perry Shapiro; Mayor Janice S. Mironov; Council Member Peter Yeager; Ari Limor, Target Store Manager, and Council Member Denise Daniels.
More:
Home News
Business News