Smashburger Reopens Under New Ownership in East Windsor Township in Windsor Center on Route 130
Published on Jul 02, 2018 at 04:06p.m.
Mayor Janice S. Mironov, joined by Smashburger owners Daniel Hill and Gene Giordano, general manager Matthew Santucci and Smashburger Regional Manager Allie Hughes, cuts the ribbon to celebrate the reopening of Smashburger.
Smashburger, reopened under new ownership, occupies 2,800 square feet at the Route 130 South entrance to Windsor Center. Smashburger joins other businesses including Aldi, Retro Fitness, Ross Dress for Less and Staples in the revitalized modernized Windsor Center, at the corner of Route 130 and 571.
Smashburger is known for its "smashed seared and seasoned to order" "craft your own" burgers, along with a varied menu which includes grilled chicken sandwiches, salads, an array of signature sides including sweet potato fries, fried pickles and crispy brussel sprouts, and hand-spun Haagen-Dazs shakes. The restaurant also offers localized burgers in each market based upon regional flavors.
Mayor Mironov stated, "There has been a tremendous amount of excitement within the community since the Township learned Smashburger would be reopen under new ownership in East Windsor. Their assortment of food offerings and great location are certain to make Smashburger a local favorite in our community. The restaurant's new owners have a proven track record at their eight other locations and we wish them many years of success here in East Windsor." Mayor Mironov added, "Their decision to reopen in East Windsor is a further demonstrated sign of the attractiveness of the vibrant Route 130 business corridor. We enthusiastically welcome Smashburger back to East Windsor."
Founded in 2007 and headquartered in Denver, Colorado, Smashburger is a fast- growing international chain with more than 250 locations in 32 states and 5 countries. The new owners now operate 9 Smashburger locations including five in Pennsylvania and four New Jersey locations in Glassboro, Maple Shade, Marlton and East Windsor. Current store hours are 11 am to 10 pm, daily. For more information, visit their website at www.smashburger.com.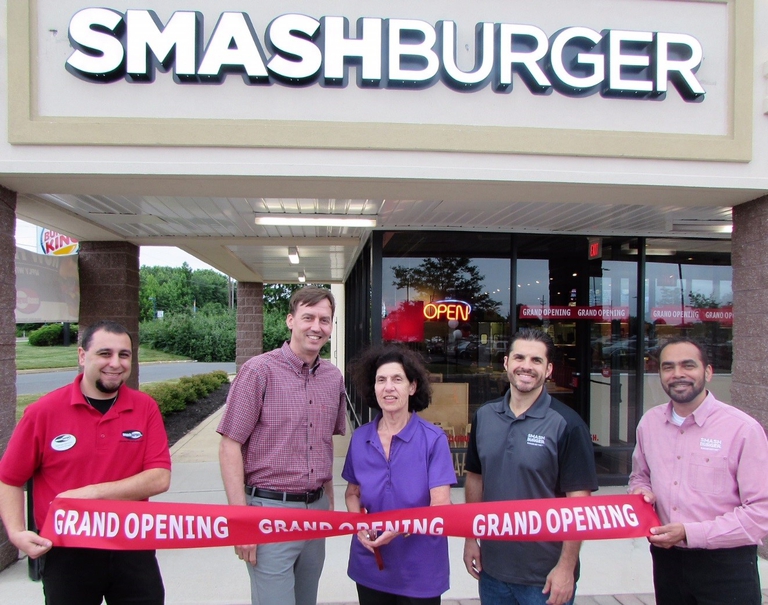 Mayor Janice S. Mironov, joined by Smashburger owners and managers, cuts the ribbon for the grand reopening of Smashburger under new ownership, in Windsor Center on Route 130. Pictured (from left to right) are: Matthew Santucci, general manager; Daniel Hill, owner; Mayor Janice S. Mironov; Gene Giordano, owner; and Allie Hughes, Smashburger regional manager.
More:
Home News
Business News