Lt. James Geary Sworn In As New East Windsor Township Chief Of Police
Lieutenant James Geary was sworn in as East Windsor Township's new Chief of Police by East Windsor Mayor Janice S. Mironov, at a ceremony in the Municipal Courtroom, attended by large numbers of Township officials, police, volunteers and family members. Chief Geary's promotion comes after former Chief Harry Marshall, who had served 22 years with the police department, retired January 1, 2017.
Mayor Mironov detailed Chief Geary's career and accomplishments with the Township department. Chief Geary joined the East Windsor police department in 1995, after graduating from the Somerset County Police Academy. He has since risen through the ranks of the department, as a police officer, then sergeant and most recently was promoted in 2012 to lieutenant. As a Lieutenant, Chief Geary served as Operations Commander and then as Administrative Commander of Uniform Services, in addition to serving as the Internal Affairs Commander and the Deputy Coordinator of Emergency Management.
Geary earned his bachelor's degree in criminal justice from Richard Stockton College of New Jersey and master's degree from Fairleigh Dickinson University. Geary also recently completed the fourteen week West Point Command and Leadership Academy.
Chief Geary he has earned many awards and recognitions, including two Unit Citations, an Educational Achievement Medal, many letters of commendation, and in 2007 was named East Windsor Township Law and Public safety Employee of the Year Award.
Mayor Mironov stated, "Lt. Jim Geary comes to this top position with an extremely wide breath of law enforcement and related experience, substantial training and credentials, and demonstrated skillful application of this background to day to day policing. He is a highly respected leader among his peers and within the community and the region."
Mayor Mironov added, "I am excited to administer the oath of office to Lt. Geary as the next East Windsor Township Chief of Police. We are confident that Jim Geary brings to the position the highest level of skills, experience, intelligence, temperament and judgment which will enable him to be a terrific Police Chief and to continue the outstanding history and high caliber performance of our department."
Chief James Geary, after taking the oath of office administered by Mayor Mironov, with the assistance of Geary's wife, Nicole, and their three children, Jessica, Nicholas and Courtney, expressed his gratitude to the Mayor and Council and to all of his fellow police officers and former department police chiefs. Chief Geary stated, "I am very excited and truly honored to have been granted the opportunity to serve as East Windsor Township's chief of police. I look forward to many years of continued service with the men and women of dedicated men and women of our police department on behalf of the entire community."
PHOTOGRAPH #1
Mayor Mironov and newly appointed Police Chief James Geary at the January 4 swearing-in ceremony.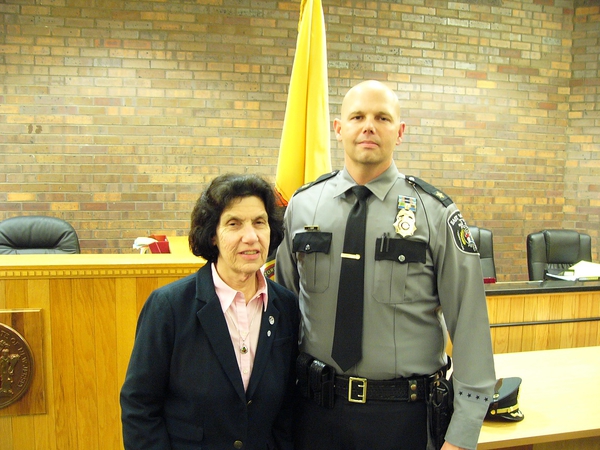 More:
Home News
Police News