Hovione Celebrates Grand Opening of Major Expansion Doubling Facility Size and Jobs in East Windsor Township
Published on Oct 10, 2018 at 03:01p.m.
Mayor Janice S. Mironov, joined by Deputy Mayor John Zoller, Council Members Denise Daniels and Alan Rosenberg as well as Hovione CEO Guy Villax, Hovione New Jersey Manager Filipe Tomas and other Hovione executives, held a grand opening ceremony for the major expansion project recently completed by Hovione, a Portuguese based pharmaceutical company located at 40 Lake Drive in the vicinity of East Windsor NJ Turnpike Exit 8.
Mayor Mironov stated, "This doubling of size and capacity of their Township R&D center marks a significant investment by Hovione in East Windsor, bringing new tax dollars, and not only ensuring existing jobs but doubling the local workforce adding large numbers of new jobs in our community. We are gratified that Hovione has found East Windsor and their strategic location at East Windsor NJ Turnpike Exit 8 to be such a beneficial home for their pharmaceutical business, and that their business is on such a positive growth pathway here."
Hovione's East Windsor facility is a pharmaceutical R&D center which develops and supplies drugs that are new chemical entities to help people with different conditions, including life-threatening diseases. The East Windsor expansion added an additional 28,000 square feet to the existing 24,000 square foot facility, and also doubled jobs, creating over 60 new jobs, increasing total Township employees to 120. The expansion consisted of the installation of a new pilot plant for Active Pharmaceutical Ingredients, additional spray drying capabilities for drug product intermediate, and a continuous manufacturing drug product line equipped with innovative real time release. These new facilities will support the global R&D strategy of Hovione's growing services in the US market and include state of the art technology. The overall Hovione investment, which more than doubled the drug substance production capacity at this site, is part of the company's strategy to increase its global development and commercial capability to meet the increasing demands of customers.
Mayor Mironov continued, "The Hovione expansion is part of a larger pattern of growth and investment in East Windsor by a widening range of industries especially pharmaceutical and high-tech companies. East Windsor's access to transportation, skilled workforce and its Einstein's Alley designation are an attractive mix of opportunities that draw great companies like Hovione to locate or expand their businesses here."
Guy Villax, Hovione CEO, stated, "I first met Mayor Mironov 17 years ago, and we have operated successfully in East Windsor ever since. We have now doubled our capacity and I look forward to another decade or two of success in this town, counting on our young Team Members to continue making the key ingredients that improve patients' lives and to celebrate on our behalf." Hovione recognizes that over a decade ago East Windsor Township, with its strategic location at NJ Turnpike Exit 8, is a major growth area in Central New Jersey; and as a result, they continue to aid in Hovione's expanding business.
General Manager of Hovione New Jersey Filipe Tomas stated, "East Windsor is a great location and we have always had a great partnership with East Windsor Township and Mayor Mironov, who has supported us since the very beginning in 2002. This collaboration was very important for Hovione to start operations in East Windsor and has proven to be successful in our growth here."
Hovione is an international company with almost 60 years' experience in the development and compliant manufacture of Active Pharmaceutical Ingredients and Drug Product Intermediates, and has four FDA inspected sites in the United States, Macao, Ireland, and Portugal, and development laboratories in Lisbon and New Jersey. For more information, visit their website at www.hovione.com.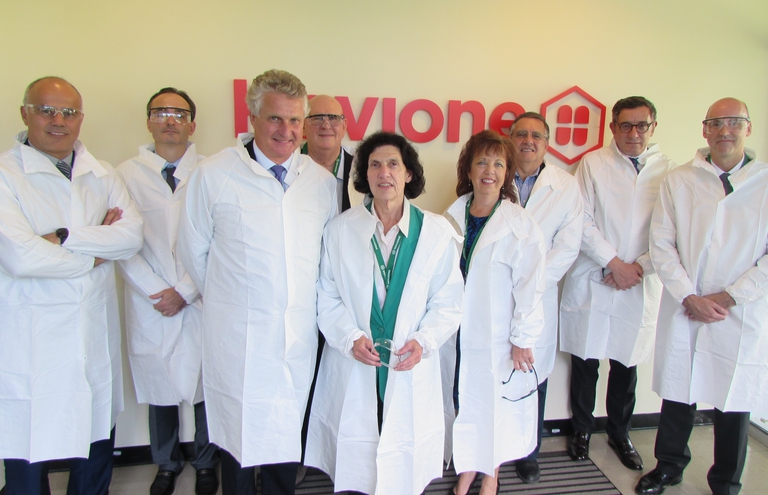 East Windsor Township Mayor Janice S. Mironov and Council Members joined Hovione executives for a grand opening ceremony for the major expansion of their East Windsor R&D center. Pictured (from left to right) are: Filipe Gaspar, Vice President of R&D; Filipe Tomas, General Manager, Hovione New Jersey; Guy Villax, CEO, Hovione; Council Member Alan Rosenberg; Mayor Janice S. Mironov; Council Member Denise Daniels; Deputy Mayor John Zoller; Manuel Couto Miranda, Commissioner, The Portuguese Trade and Investment Agency, and Michael J. Lubben, Secretary, Portugal-US Chamber of Commerce.
More:
Home News
Business News