Edible Arrangements Opens Under New Ownership in Windsor Crossing Shopping Center in East Windsor Township
Published on Nov 19, 2018 at 10:48a.m.
Mayor Janice S. Mironov and Deputy Mayor John Zoller, joined by Edible Arrangements owners Megan Francis and Vinny Leale, cut the ribbon to celebrate the grand opening under new ownership of Edible Arrangements. Edible Arrangements, under new ownership, is in the Windsor Crossing Shopping Center, located on Route 33 off of Route 130 North, between Walmart and Home Depot.
Edible Arrangements, with over 1,200 stores nationwide, employs "fruit experts" who create fresh fruit and chocolate covered fruit bouquets and arrangements daily for pick-up or delivery for any special occasion. In addition to made to order fruit gifts, Edible Arrangements also offers fresh fruit smoothies, fruit salads, fruit parfaits, chocolate-dipped fruits and other personal-sized treats. Current East Windsor store hours are Monday through Friday 9 AM to 7 PM, Saturday 9 AM to 5 PM, and Sunday 10 AM to 3 PM.
Mayor Mironov stated, "We enthusiastically welcome the new owners of Edible Arrangements to East Windsor Township, located in the modern and attractive Windsor Crossing Shopping Center, adjacent to the popular Gold's Gym. Edible Arrangements offers a unique and healthy option for people seeking a gift or looking to celebrate a special occasion. Edible Arrangements is a great, well-known business to help draw shoppers to the Windsor Crossing Center in the southern end of the Township."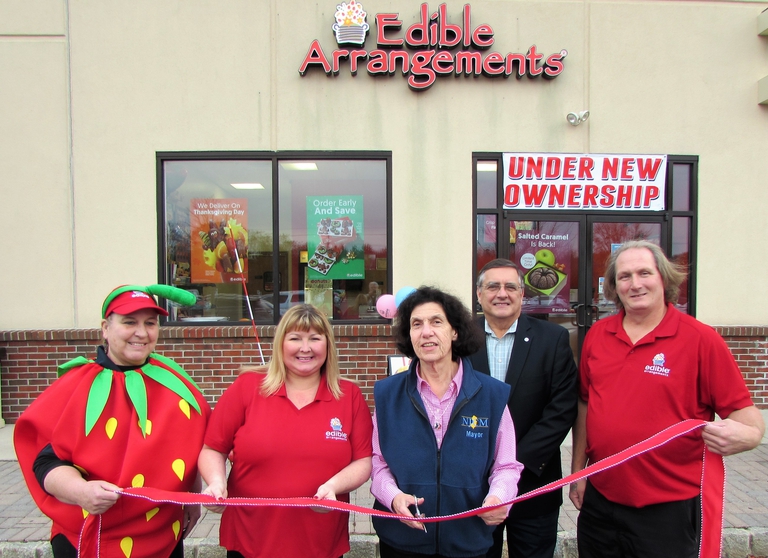 Mayor Janice S. Mironov, joined by Deputy Mayor John Zoller and Edible Arrangements owners, cuts the ribbon for the grand opening of Edible Arrangements under new ownership, in the Windsor Crossing Shopping Center. Pictured (from left to right) are: Eileen Roland, Fruit Expert, Edible Arrangements; Megan Francis, owner; Mayor Janice S. Mironov; Deputy Mayor John Zoller, and Vinny Leale, owner.
More:
Home News
Business News