East Windsor Township Recognizes Perkins Restaurant with Litter Free Award
Published on Oct 18, 2017 at 09:00a.m.
Mayor Janice S. Mironov and the East Windsor Clean Communities Advisory Committee have awarded Perkins Restaurant and Bakery, located on Princeton-Hightstown Road at the corner of Lanning Boulevard, a "Certificate of Appreciation for Keeping East Windsor Township Litter Free." The purpose of the award is to recognize a local business that has made special efforts to keep East Windsor Township litter free. The award was accepted by Perkins Restaurant co-owner Eric Rouskas.
Co-owners Eric Rouskas and John Bennett have operated the East Windsor Perkins over the past 12 years. Perkins is a casual dining restaurant chain that specializes in and serves breakfast all day, but also offers a wide array of lunch and dinner options and specials. It also has in-store bakery that sells various pies, muffins and cookies. The restaurant is open daily from 7:30 AM to 8:30 PM.
Mayor Mironov stated "Perkins Restaurant is a local business situated in a highly visible prominent location on a major Township road, and they have done a great job keeping their property and building well maintained, landscaped and free of litter, thereby enhancing the municipal appearance and environment. Perkins clearly has undertaken significant efforts in working to make East Windsor Township a cleaner and healthier and more attractive community, which is a major benefit to our community."
PHOTOGRAPH:
Mayor Janice S Mironov and East Windsor Clean Communities Advisory Committee Members present a Certificate of Appreciation to Perkins for "Outstanding Efforts to Keep East Windsor Township Litter Free" Award. Pictured (from left to right) are: Douglas Greene, Clean Communities Committee Member; Eric Rouskas, Perkin's Co-Owner; Mayor Janice Mironov; John Donnelly, Chairperson, Clean Communities Committee, and Council Member Alan Rosenberg.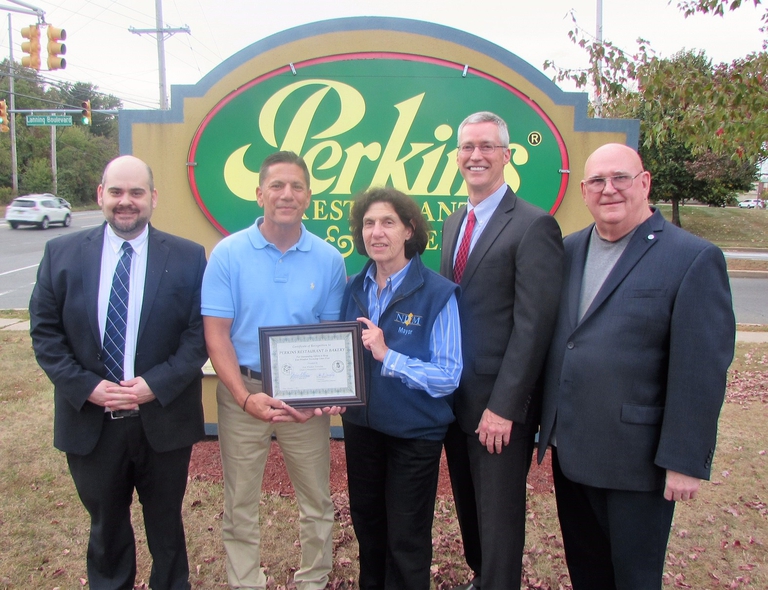 More:
Home News
Business News