East Windsor Township Proclaims "Knock Out Opiate Abuse Day"
Published on Nov 12, 2018 at 10:23a.m.
Mayor Janice S. Mironov issued a Proclamation recognizing "Knock Out Opiate Abuse Day," joined by the East Windsor Municipal Alliance for the Prevention of Substance Abuse Coordinator and Council Member Peter Yeager and Municipal Alliance Members.
Mayor Mironov's Proclamation states, "Knock Out Opiate Abuse Day," in partnership with other groups for a Drug-Free New Jersey, is a statewide event geared to raise public awareness for individuals and families, professionals, and community leaders of the concerns and drug abuse links of the potential dependency on prescribed pain medicine. The Mayoral Proclamation recognizes, "New Jersey faces a life threatening opiate abuse epidemic. In New Jersey alone, over 2.75 million prescriptions for highly addictive opioids were prescribed to children, friends and family members, many times without any information of their addictive qualities. 'Knock Out Opiate Abuse Day' is an outreach to raise awareness of citizens and professionals of opiates while considering safer treatment options."
Mayor Mironov stated, "'Knock Out Opiate Abuse Day' brings focus to this important community concern that exists in all of our communities and particularly affects young people or people who have suffered an illness or injury where they find themselves in need of prescription drugs. In the past month, through a partnership among several different levels of government and concerned volunteers, a new office location was opened to provide community-based mental health and substance abuse counselling. These counseling services opened last October and were located at the YMCA of Western Monmouth and were provided by Family Guidance Center. As a result of the efforts of the number of people who played different parts, we were able to relocate the service and brought on Jewish Family and Children's Services as the new provider. We are very excited to ensure this community based service would continue for East Windsor and Hightstown residents from a highly qualified provider in an easily accessible space."
Council Member Peter Yeager, who serves as the coordinator for the East Windsor Municipal Alliance, thanked the Mayor and Council and the Municipal Alliance Members for "keeping this issue in the forefront and for addressing it in such a proactive way. If each family in the community does something even as small as keeping perscription drugs out of the hands of those that shouldn't have them, that would go a long way toward stopping this crisis."
Mayor Mironov noted that "an achievement of the local Municipal Alliance has been to establish a drop off box in the lobby of the Police/Court Building where residents can dispose 24/7 of prescriptions that are expired or no longer needed in an environmentally responsible and secure way."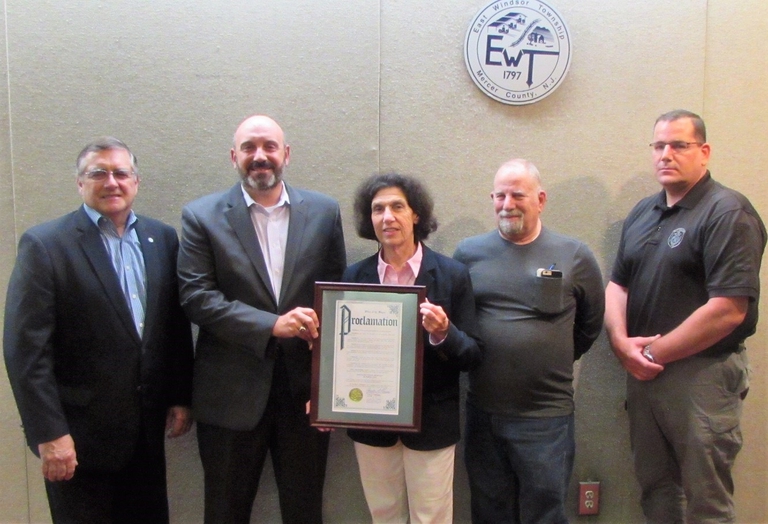 Mayor Mironov proclaimed "Knock Out Opiate Abuse Day" and presented a Mayoral Proclamation to members of the East Windsor Municipal Alliance for the Prevention of Substance Abuse. Pictured (from left to right) are: Deputy Mayor John Zoller; Council Member and Coordinator for the East Windsor Municipal Alliance Peter Yeager; Mayor Janice S. Mironov; Al Gruper, and Police Detective Joseph Gorski.
More:
Home News
Police News