East Windsor Township Proclaims Human Trafficking Awareness Month
Published on Feb 05, 2018 at 10:00a.m.
Mayor Janice S. Mironov, joined by Womanspace Executive Director Patricia Hart and Womanspace Board Member/retired East Windsor Chief of Police Bill Spain, issued a Mayoral Proclamation recognizing January as Human Trafficking Awareness Month and further made a special presentation recognizing this important issue.
Mayor Mironov said "human trafficking is a global issue whose victims can be found throughout the world and even close to home. It is important to recognize this issue annually to raise awareness and to be vigilant in fighting this crime that dehumanizes its victims and subject so many people to a life of servitude and abuse. Again, Womanspace is out there as an advocate for and local resource of support and assistance to survivors of human trafficking."
Mayor Mironov also presented Womanspace with a poster for its 40th Anniversary that featured a photo she took of a billboard near the border of Myanmar and Thailand, in Southeast Asia, that was an anti-human trafficking public service announcement. Mayor Mironov stated that human trafficking is a major issue in that part of the world and shows the global nature of the problem and the importance that organizations such as Womanspace combat it here at home.
The Mayoral Proclamation recognizes that "human trafficking is a borderless crime against individuals that violates the most basic human rights and deprives victims of every shred of personal freedom. The United Nations' International Labour Organization has estimated that nearly 24.9 million people are trapped in forced labor including 4.8 million people are in force sexual exploitation."
Mayor Mironov's Proclamation stated "to raise awareness about the signs and consequences of human trafficking, to promote reporting mechanisms and opposition to human trafficking in all of its forms, to encourage support for the survivors of human trafficking throughout the State of New Jersey and across the world and to put an end to this abhorrent criminal activity and restore freedom and dignity to its survivors." The Proclamation further stated that the, "Township of East Windsor is resolved to support the goals and ideals of observing a National Month of Human Trafficking Awareness each year to support all efforts by individuals, businesses, organizations, and governing bodies to raise awareness of and opposition to Human Trafficking."
PHOTOGRAPH:
East Windsor Township Mayor Janice S. Mironov issued Mayoral Proclamation recognizing January as Human Trafficking Awareness Month. Mayor Mironov presented Womanspace with a sign commemorating its 40th Anniversary that features a picture of an anti-human trafficking billboard she saw near the border of Myanmar and Thailand, during a recent trip to Southeast Asia. Pictured (from left to right) are: Mayor Janice S. Mironov; Patricia Hart, Executive Director of Womanspace, and Retired East Windsor Police Chief Bill Spain.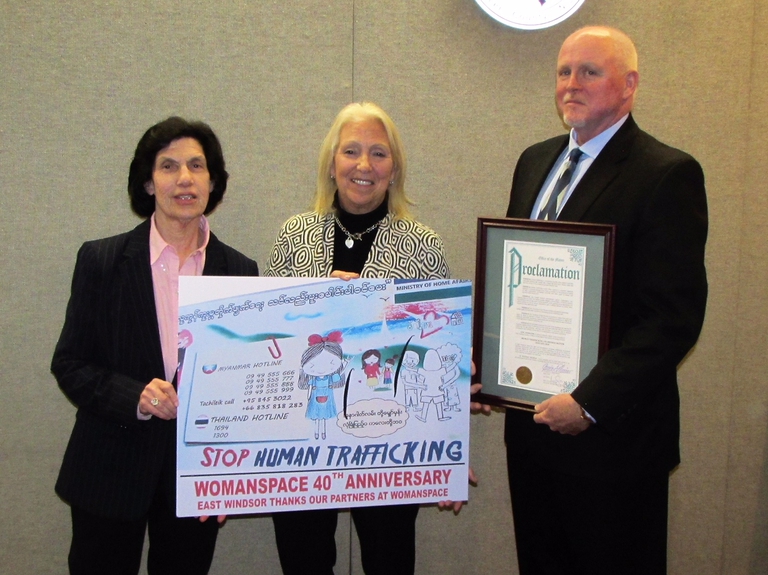 More:
Home News
Police News