East Windsor Township Proclaims Black History Month And Recognizes Reverend Bernard T. Fowler
Published on Mar 13, 2019 at 11:37a.m.
Mayor Janice S. Mironov proclaimed February as Black History Month, and recognized the Reverend Bernard T. Fowler of Mt. Olivet Baptist Church in East Windsor for his many contributions and dedication to the community. Mayor Mironov stated, "as we recognize Black History Month in East Windsor Township, we celebrate the many individuals and long history of contributions, significant assistance, and participation by people of color in our community, our state, and our nation." Mayor Mironov praised Reverend Fowler, noting "Reverend Fowler has been a very active and foundational individual in our East Windsor Hightstown community. He has especially dedicated himself to the areas of feeding the hungry, supporting the education and mentoring of young students, and promoting inter-faith relationships including through the Windsor-Hightstown Area Ministerium to learn more about one another's faith."
The Mayoral Proclamation states, "Reverend Bernard T. Fowler, a native of Albany, Georgia and a New Jersey resident since 1985, who received an engineering degree from Tuskegee University in Tuskegee, Alabama and earned his Master's degree from Philadelphia Biblical University in Langhorne, Pennsylvania, joined Mt. Olivet Baptist Church in 1988 and was elected as the fourteenth pastor of the church in December 1999 and installed in November 2000. Reverend Bernard T. Fowler has devoted himself to serving his congregation and community by engaging in numerous community initiatives in affordable housing, property tax reform, and academic reform in public school systems."
The Proclamation issued by Mayor Mironov continues, "Reverend Bernard T. Fowler has developed many important community programs aiming to meet the needs of his congregation and the entire community, including establishing a weekly food drive to feed the hungry, participating in the Annual Crop Walk to raise funds to support those in need, as well as completing a mission project to Ghana. Reverend Bernard T. Fowler has undertaken many initiatives to support and further the education of young people in the community, including the creation of The Powell Learning Center, which has provided over $150,000 in scholarships to college-bound students, and the implementation of student programs such as tutoring services, mentoring programs, and learning development activities. Through many years of dedicated service, hard work, and devotion to the community, Reverend Bernard T. Fowler has proven himself an invaluable leader and continues to improve the lives of others."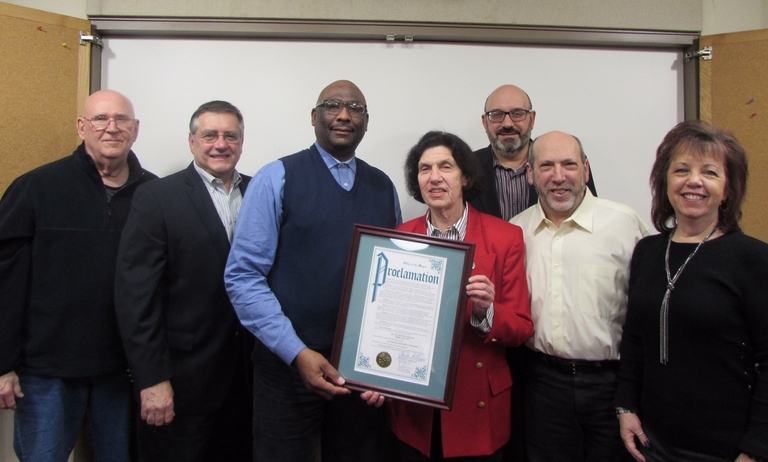 East Windsor Township Mayor Janice S. Mironov, along with East Windsor Township Council Members, presents a Mayoral Proclamation recognizing Black History Month and the contributions of Reverend Bernard T. Fowler of Mt. Olivet Baptist Church. Pictured (from left to right) are: Council Member Alan Rosenberg; Council Member John Zoller; Reverend Bernard T. Fowler of Mt. Olivet Baptist Church; Mayor Janice S. Mironov; Council Member Peter Yeager; Deputy Mayor Marc Lippman, and Council Member Denise Daniels.
More:
Home News