East Windsor Township Kicks Off "We Check for 21" Campaign
Published on Jul 17, 2018 at 04:25p.m.
Mayor Janice S. Mironov, surrounded by local Township liquor license holders, issued a Proclamation recognizing Alcohol Awareness Month and kicking off the East Windsor "We Check for 21" initiative aimed at deterring underage drinking. As part of the Township "We Check for 21" Campaign, liquor license holders are required to sign the 'We Check for 21" Pledge as a condition of receiving their liquor license renewal. The Pledge affirms each liquor license holder's strong support of East Windsor Township's "We Check for 21" Program. Various resource and informational materials and paraphernalia were distributed for use at these establishments.
Mayor Mironov publicly praised the license holders in attendance for their demonstrated interest and concern for this important community goal: Tara Welch of Bottle King; Ranganath Lingala of PST Associates, LLC; Patricia O'Brien of Hightstown Elks #1955; Paul Miller of The Peddie Golf Club; Irene Papaioannou of the Americana Diner; George Simaan of TGI Friday's; Michael Shamy of Charlie Brown's; Jimmy Manaetas and Tony Menendez of the Town Diner; Senior Vice Commander Steven Weston of the Veterans of Foreign Wars Post 5700; Jason Gershon of the Holiday Inn of East Windsor, Joseph Rubino of Twin Rivers Pub, and Harvinder Singh of Shoppes of East Windsor.
Mayor Mironov stated, "The Township supports and is proud to promote the 'We Check for 21' Program, along with our licensed business partners, which is designed to heighten the awareness and prevention of underage drinking within all of our communities. There are many serious impacts to underage drinking, including many young drivers under 21 who are involved in automobile accidents have blood alcohol levels above the legal limit. The 'We Check for 21' Program is an excellent vehicle to bring together municipal government leaders, young people, parents, key community and school leaders, policy makers and local businesses toward a common positive community effort. We appreciate and call on all businesses and citizens to become more aware of and more involved in efforts to reduce underage drinking and enhance safety in our community."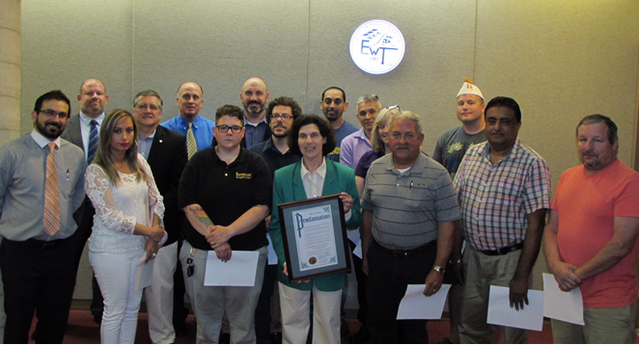 Mayor Janice S. Mironov recognizes and thanks local liquor license holders for their participation in the 2018 "We Check for 21" campaign. Pictured (from left to right) are: (front row) George Simaan, TGI Fridays; Irene Papaioannou, Americana Diner; Tara Welch, Bottle King; Mayor Janice S. Mironov; Paul Miller; Peddie Golf Club; Harvinder Singh, Shoppes of East Windsor; Michael Shamy, Charlie Brown's; (middle row) Deputy Mayor John Zoller; Joseph Rubino, Twin Rivers Pub; Patricia O'Brien, Hightstown Elks; (back row) Jason Gershon, Holiday Inn; Edward "Chip" Meara, Mercer County Municipal Drug Alliance Coordinator; Council Member Peter Yeager, Coordinator, East Windsor Municipal Alliance for the Prevention of Substance Abuse; Ranganath Lingala, PST Associates; Tony Menendez, Town Diner, and Senior Vice Commander Steve Weston, Veterans of Foreign Wars Post 5700.
More:
Home News
Business News