East Windsor Celebrates 150th Anniversary of Historic Landmark Lee Turkey Farm
Published on Oct 23, 2018 at 02:10p.m.
Mayor Janice S. Mironov, joined by Deputy Mayor John Zoller, Council Members Denise Daniels, Marc Lippman, and Alan Rosenberg, at a celebration at the farm, presented Lee Turkey Farm owners Ronny and Janet Lee and son Dylan, and Ronny's parents Richard and Ruth Lee, a Mayoral Proclamation to celebrate the 150th Anniversary of the Lee Turkey Farm, located on Hickory Corner Road. Mayor Mironov and Council Members unveiled commemorative roadway signs marking "East Windsor Township, Proud Home to Lee Turkey Farm, 1868 – 2018 Celebrating 150 Years." The 150th Anniversary landmark signs, each measuring four feet by four feet, will be installed on Route 130 at the northern and southern entrances to the Township.
Mayor Mironov stated, "we are so proud of the Lee Turkey Farm which is a real treasure in our town, with a historical significance represented by six generations of the Lee Family and the original structures dating back to 1802. The farm has long been considered an oasis in a predominately residential area, and the Township is proud to have been a pro-active partner in preserving the site forever as farmland so it cannot be developed. The Lee Turkey Farm has been a leader in many of the farm's innovative approaches to farming and sustainability including being the first New Jersey 'pick your own' farm and the first New Jersey farm to use solar panels to power farm operations."
Mayor Mironov continued, "We are excited to celebrate the 150th anniversary of the Lee Turkey Farm, which has helped put East Windsor on the map and is a unique landmark and tri-state attraction with people coming from all over the region for tours, to pick their own and to purchase fresh produce. I have a deep love for the Lee Family as well as the farm and I think that reflects the community's sentiment toward you as well."
Mayor Mironov's Proclamation states the Lee Turkey Farm is "rich in history and innovation due to the perseverance and continuous dedicated work of the Lee Family, and serves as a major attraction for local residents, families, school groups, tourists, pick-your-own fans and turkey lovers from all over the tri-state region. We recognize this landmark as a cornerstone in East Windsor Township for the past 150 years and we wish the Lee Turkey Farm a continuing and thriving future."
The Lee Turkey Farm is a major attraction where visitors can pick their own produce, take tours of the historic farm, explore the annual corn maze and purchase home grown fruits, vegetables, and oven-ready turkeys. The Lee Turkey Farm has raised turkeys for 80 years and raises some 3,000 turkeys annually which can be purchased year around. The first farm in New Jersey to offer pick-your-own produce, the farm features acres of fruit trees and vegetables, all for the picking by farm visitors or available for purchase at the farm stand.
The Lee Turkey Farm has been operated by the Lee Family for six generations dating back to 1868, while the original five room section of the farmhouse and the barn date back to 1802. In 2006, at the urging and advocacy of Mayor Mironov and East Windsor Township, Lee Turkey Farm was preserved under the Mercer County farmland preservation program ensuring the historic property would be preserved as farmland forever.
The Lee Turkey Farm became a leader in energy conservation in 2005, when Ronny Lee was the first New Jersey farmer to use solar energy to power farm operations. He installed 360 solar panels on the barn, providing about 48,000 kilowatt hours a year, about 90 percent of the energy used on the farm.
The Lee Turkey Farm also is an active member of Farmers Against Hunger, an organization founded in 1996 to enable farmers throughout New Jersey to contribute their extra produce to those in need. In 2018, the Lee Turkey Farm was awarded the Neil Robson Farmers Against Hunger Award in recognition of the farm's generous donations of surplus produce and turkey donating more than 55,000 pounds of turkey and produce to the organization.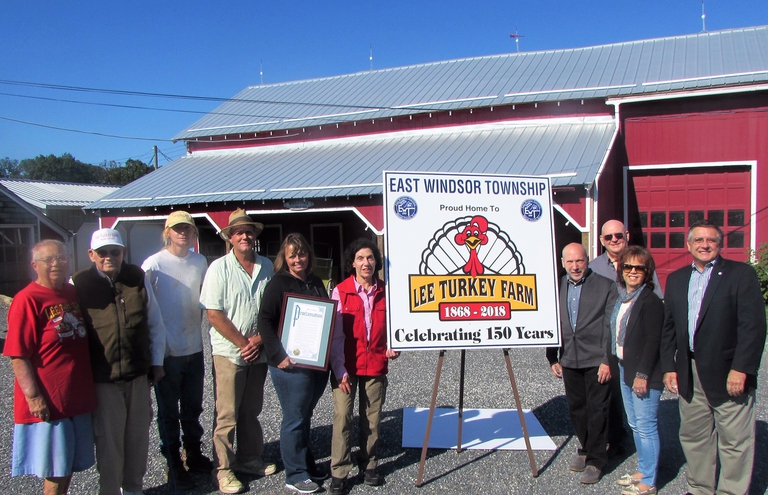 Mayor Janice S. Mironov and Council Members presented a Mayoral Proclamation to the Lee Family and unveiled the 150th Anniversary landmark sign in honor of the 150th anniversary of Lee Turkey Farm. Pictured (from left to right) are: Ruth Lee; Richard Lee; Dylan Lee; Ronny Lee; Janet Lee; Mayor Janice S. Mironov; Council Member Marc Lippman; Council Member Alan Rosenberg; Council Member Denise Daniels, and Deputy Mayor John Zoller.

Mayor Janice S. Mironov presents a Mayoral Proclamation and commemorative sign in honor of the 150th anniversary of Lee Turkey Farm to the Lee Family. Pictured (from left to right) are: Ruth Lee; Richard Lee; Janice S. Mironov; Janet Lee; Ronny Lee, and Dylan Lee.
More:
Home News
Business News