La Terrazza Restaurant Opens in Newly Constructed Galleria at Twin Rivers Center on Route 33 East at Twin Rivers Drive in East Windsor Township
Published on Mar 10, 2017 at 10:11a.m.
Mayor Janice S. Mironov, joined by Council Members Alan Rosenberg and John Zoller, and restaurant owner/operator Tobia Daniello celebrated the grand opening of La Terrazza Restaurant in the newly constructed 25,000 square foot Galleria at Twin Rivers Center, on Route 33 East at Twin Rivers Drive.
The new Italian Restaurant, which offers both sit-down and take-out as well as catering, is 3,691 square feet with a formal dining room area which is available as a banquet room for parties and large events. La Terrazza, owned and operated by the Daniello Family who brings over four decades of experience to East Windsor, has a broad menu of Italian food, including homemade soups, salads, a wide choice of entries, and pizza. Current hours of operation are Tuesday through Friday, 11:30 am to 10:30 pm, and Saturday to Sunday, 11:30 am to 11:00 pm and closed on Mondays. For further information on La Terrazza, call (609) 630-2155 or see LaTerrazzaNJ.com.
Mayor Mironov stated, "La Terrazza represents yet another new retail tenant and restaurant variety within our community and in a highly prominent visible location along Route 33 just east of the NJ Turnpike Interchange. This family owned and operated business offers another option for dining within our area in a very modern and attractive new retail center, which has eight other new stores for the community's use, adding further vitality to the Route 33 corridor."
La Terrazza is the newest store to open in the new Galleria center. Eight other new businesses have or will be opening, offering an array of service and dining options: Tsubaki Japanese and Hibachi Restaurant; Eye Level Learning Center, offering math and English after school tutoring; Hair 360; Nails 360; Chef's Rotisserie Chicken; East Windsor Dry Cleaners; Windsor Liquors, and coming soon Future Pharmacy.
PHOTOGRAPH:
Mayor Janice S. Mironov and Council Members join with restaurant owners to celebrate opening of La Terrazza Restaurant in the newly constructed Galleria retail center on Route 33 at Twin Rivers Drive. Pictured (from left to right) are: Council Member Alan Rosenberg; Tobia Daniello, Developer of Galleria and Owner/Operator of La Terrazza Restaurant; Mayor Janice S. Mironov; Council Member John Zoller, and Elena Vignolo, South Brunswick Enterprises.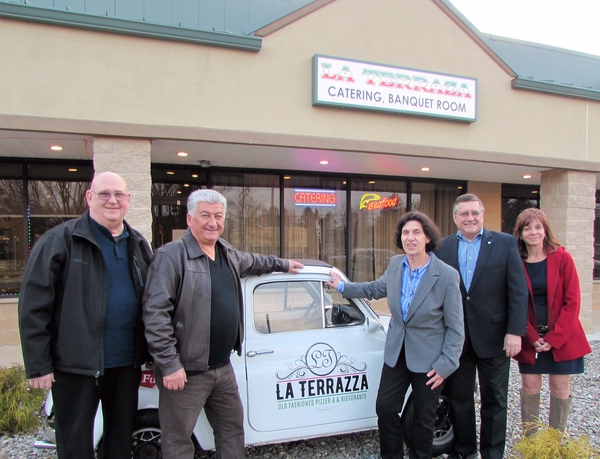 More:
Home News
Business News