East Windsor Township Kicks Off Grant Funded Distracted Driver Campaign
Published on Apr 17, 2018 at 09:21a.m.
Mayor Janice S. Mironov announced that East Windsor Township has kicked off a pro-active Distracted Driver campaign, underwritten by a $6,600 NJ Division of Highway Traffic Safety grant. The "U Drive, U Text, U Pay" grant is for enforcement of distracted driving violations, such as texting, using a cell phone, eating or drinking, grooming, reading, using a navigation system, and using other electronic devices while driving.
According to Mayor Mironov, "This initiative is geared to promote the responsible operation of motor vehicles for everyone through increased public awareness and education, as well as enforcement of distracted driving laws. Motorists should put their phones away while driving and give their full attention to the road, to do their part to help keep our roadways safe."
Distracted driving is a dangerous behavior to engage in, and is responsible for the deaths of 3,450 people nationally in 2016 alone. Additionally, it is the youngest and most inexperienced drivers that are most at risk, with 10% of all distracted driving crashes involving drivers under the age of 20, according to distraction.gov, the US government official website for distracted driving. The program is intended to educate motorists about the dangers of distracted driving, provide increased public awareness of this important issue, and conduct enforcement activities during the grant period. All motorists are urged to commit to the safe operation of their vehicles by pledging to not use electronic devices or engaging in other distracting behaviors while driving.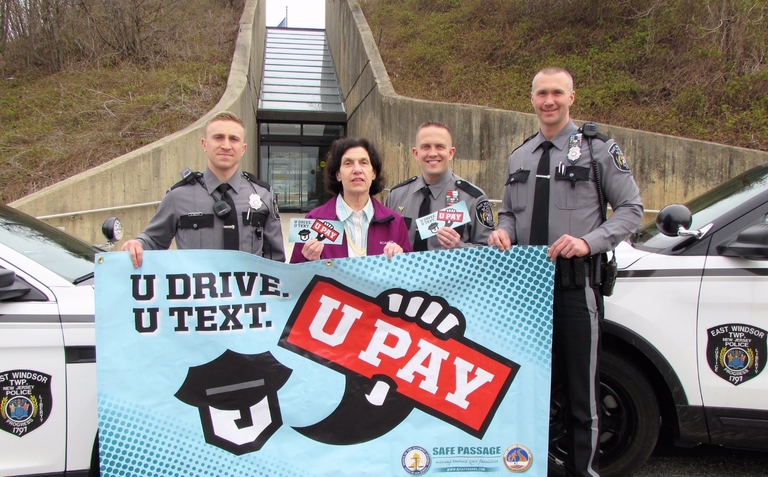 Mayor Janice S. Mironov and East Windsor Police Department kick off "U Drive, U Text, U Pay" Campaign. Pictured (from left to right) are: Police Officer Giuston DeBlasio; Mayor Janice S. Mironov; Police Sergeant Ryan Ballard; and Police Officer Robert Davison.
More:
Home News
Police News